How to use the 70 20 10 model to optimise learning
The 70:20:10 model is one that all learning professionals should be familiar with.
Learning doesn't stop when a learner leaves the classroom or ends the call at the end of an online course, and this model represents the impact of learning outside of formal learning experiences.
So let's look into the 70:20:10 model in a little more detail.
What is the 70:20:10 model?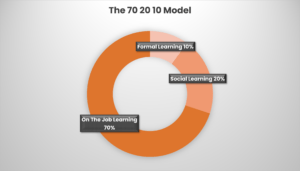 The 70:20:10 model for learning and development is based on the principle that:
– 70% of learning comes from 'on-the-job' experiences: This can be anything from repeating tasks, reflecting on learning and experimenting with different tasks and processes.
– 20% of learning comes from 'social learning': This includes working with colleagues and other individuals, as well as group work and feedback.
– 10% of learning comes from 'formal learning': This is planned learning solutions, such as eLearning courses, face-to-face sessions and webinars.
For learning professionals and digital learning designers, this places more emphasis on creating courses that build a learning culture and mentality where learners are away from a formal learning experience.
Although you can't control what someone does once they've finished a course, you can still influence their social and on-the-job learning.
Step 1: Formal Learning
Formal learning is planned learning interventions. It's eLearning courses, company training days and so on. And although formal learning only makes up 10% of someone's learning, doesn't mean it's not important.
Planned learning can help to stimulate someone's learning, get them engaged in their own development and promote a learning mentality that lasts long after an online course or training session has finished.
Whether it's in-person, or online, look for ways to get your audience involved and engaged in your learning. Instructor-led training lends itself to breakout rooms and opening up questions to the audience, but with online courses, you may need to be more creative to get learners thinking.
Consider using animated branched scenarios, software simulations and video content to maintain the attention of your learners.
Software like Articulate Storyline and Vyond are ideal for creating this type of content.
Step 2: Social learning
According to the 70:20:10 rule, 20% of learning is social. This means learning from others and our environment.
Psychologist Albert Bandura combined cognitive learning theory (that states learning is influenced by psychological factors) and behavioural learning theory (that states learning is based on responses to environmental stimuli) to create social learning.
Bandura's social learning theory has four key requirements of learning:
Observation
Retention
Reproduction
Motivation
A great example of social learning is baseball. Even if you have never swung a baseball bat in your life, you'd probably know what to do with it if you were handed one and told to hit a ball. This is because you've observed the practice on the TV, you've retained the knowledge, you're repeating what you've seen, and you're motivated to do so (even if that motivation is just because you've been told to).
So how can we as digital learning professionals incorporate social learning into our strategies? Many people assume that social learning needs to involve face-to-face contact. However, our example above shows this is wrong. Social learning is key to the success of organisations, in adopting an agile approach to learning – reflected in a learning culture where employees are constantly encouraged to learn and to grow.
Using your LMS for social learning
Your learning platform or LMS is the hub of all learning content in your organisation. So, it's great place to start implementing social learning. An LMS, like Docebo, comes with built-in forums, allowing learning to communicate with each other and ask questions of their peers. This is a great way to facilitate social learning in your organisation, in the easiest, most cost-effective way.
Learner created content
Allowing your learners to create learning content is a great way to facilitate social learning. Empowering employees by letting them record demos, lectures, webinars, and calls is not only a great way to boost morale, but also to increase the learning culture in your organisation. In turn, your employees are learning from one another and increasing the efficiency of learning in your organisation.
Step 3: On-the-job learning
The final step of the 70:20:10 model is 'on-the-job' learning.
The 702010 Institute lists problem solving, challenging tasks, auditing/reviewing, innovation and reflection as examples of learning by working. These are all what we'd consider 'independent' learning, so what can a learning designer do to help?
Implement a digital adoption solution
A digital adoption solution is a piece of software designed to help users learn whilst they work. This tool works in the background and can provide help if users encounter any frustrations or blockers.
Whereas a software simulation or eLearning course might be considered formal learning, a digital adoption solution is user-driven learning and doesn't interrupt someone's day-to-day work.
Learning in the flow of work
In 2010 Gottfredson and Mosher identified five moments when people learn, these moments are when learners are:
Learning something new
Learning more on a topic they already have basic knowledge of
Applying knowledge they've learnt
Trying to solve a problem
Trying to make a change
'On-the-job' learning will fall into two of these moments, when our learners are applying knowledge, or trying to solve a problem. As learning designers, we can create 'just-in-time' learning content to help in these moments.
Designing 'just-in-time' content
Just-in-time content does as it says on the tin. It teaches your learners the key facts they need to know in the exact moment of need. According to CEB research, 57% of employees expect learning to be 'just-in-time' or 'as needed'.
Most just-in-time content has two key features:
It's short and gets straight to the point
It's available on a multitude of devices (especially mobile!)
The secret to effectively designing and planning just-in-time content is to map out your learner's day-to-day roles, highlight stumbling blocks, and create content that directly helps them overcome these challenges.
To ensure the effectiveness of content, make sure it is easily accessible to your learners. If they need to go through a multi-step log in process to get to the content or can only access it from their computers – it'll put them off using it. This will encourage your learners to turn to public forums, such as YouTube or Google, which could lead to mistakes. Depending on the task at hand, these mistakes could be disastrous for your organisation. Learning platforms with a good mobile app and/or single-sign-on are a great way to overcome this.
70:20:10 summary
So, there you have it – a three-step process to optimising your learning with the 70:20:10 model. If you'd like to know more about optimising your learning content, please get in touch.
Explore more at Omniplex Learning
How to choose the best learning management system