Array
(
    [0] => Array
        (
            [acf_fc_layout] => product_hero
            [image] => Array
                (
                    [ID] => 621
                    [id] => 621
                    [title] => Docebo-Hero
                    [filename] => Docebo-Hero.png
                    [filesize] => 65661
                    [url] => https://omniplexlearning.com/wp-content/uploads/2021/12/Docebo-Hero.png
                    [link] => https://omniplexlearning.com/product/docebo/docebo-hero/
                    [alt] => 
                    [author] => 1
                    [description] => 
                    [caption] => 
                    [name] => docebo-hero
                    [status] => inherit
                    [uploaded_to] => 620
                    [date] => 2021-12-03 11:27:24
                    [modified] => 2021-12-03 11:27:24
                    [menu_order] => 0
                    [mime_type] => image/png
                    [type] => image
                    [subtype] => png
                    [icon] => https://omniplexlearning.com/wp-includes/images/media/default.png
                    [width] => 579
                    [height] => 630
                    [sizes] => Array
                        (
                            [thumbnail] => https://omniplexlearning.com/wp-content/uploads/2021/12/Docebo-Hero-150x150.png
                            [thumbnail-width] => 150
                            [thumbnail-height] => 150
                            [medium] => https://omniplexlearning.com/wp-content/uploads/2021/12/Docebo-Hero-276x300.png
                            [medium-width] => 276
                            [medium-height] => 300
                            [medium_large] => https://omniplexlearning.com/wp-content/uploads/2021/12/Docebo-Hero.png
                            [medium_large-width] => 579
                            [medium_large-height] => 630
                            [large] => https://omniplexlearning.com/wp-content/uploads/2021/12/Docebo-Hero.png
                            [large-width] => 579
                            [large-height] => 630
                            [1536x1536] => https://omniplexlearning.com/wp-content/uploads/2021/12/Docebo-Hero.png
                            [1536x1536-width] => 579
                            [1536x1536-height] => 630
                            [2048x2048] => https://omniplexlearning.com/wp-content/uploads/2021/12/Docebo-Hero.png
                            [2048x2048-width] => 579
                            [2048x2048-height] => 630
                            [woocommerce_thumbnail] => https://omniplexlearning.com/wp-content/uploads/2021/12/Docebo-Hero-300x300.png
                            [woocommerce_thumbnail-width] => 300
                            [woocommerce_thumbnail-height] => 300
                            [woocommerce_single] => https://omniplexlearning.com/wp-content/uploads/2021/12/Docebo-Hero.png
                            [woocommerce_single-width] => 579
                            [woocommerce_single-height] => 630
                            [woocommerce_gallery_thumbnail] => https://omniplexlearning.com/wp-content/uploads/2021/12/Docebo-Hero-100x100.png
                            [woocommerce_gallery_thumbnail-width] => 100
                            [woocommerce_gallery_thumbnail-height] => 100
                            [shop_catalog] => https://omniplexlearning.com/wp-content/uploads/2021/12/Docebo-Hero-300x300.png
                            [shop_catalog-width] => 300
                            [shop_catalog-height] => 300
                            [shop_single] => https://omniplexlearning.com/wp-content/uploads/2021/12/Docebo-Hero.png
                            [shop_single-width] => 579
                            [shop_single-height] => 630
                            [shop_thumbnail] => https://omniplexlearning.com/wp-content/uploads/2021/12/Docebo-Hero-100x100.png
                            [shop_thumbnail-width] => 100
                            [shop_thumbnail-height] => 100
                        )

                )

            [ico] => https://omniplexlearning.com/wp-content/uploads/2021/12/docebo-logo.png
            [title] => Docebo
            [sub_title] => The complete Learning Management System 
            [info] => 

As Docebo's trusted strategic partner, we give you the opportunity to  utilise tools from the Docebo Learning suite. Deliver AI-powered learning, functionality that works and scale to your organisations needs.



            [link_1] => Array
                (
                    [title] => Book a Demo
                    [url] => #request_form
                    [target] => 
                )

            [link_2] => Array
                (
                    [title] => Find out more
                    [url] => #whysection
                    [target] => 
                )

            [slide] => 
            [slide_section_title] => 
            [slider] => 
            [flip_content] => 
            [element_type] => 
        )

    [1] => Array
        (
            [acf_fc_layout] => carousel_with_progress_bar
            [title] => Why Docebo?
            [key_features] => Array
                (
                    [0] => Array
                        (
                            [image] => Array
                                (
                                    [ID] => 9825
                                    [id] => 9825
                                    [title] => powerful platform-01
                                    [filename] => powerful-platform-01.png
                                    [filesize] => 390124
                                    [url] => https://omniplexlearning.com/wp-content/uploads/2021/12/powerful-platform-01.png
                                    [link] => https://omniplexlearning.com/product/docebo/powerful-platform-01/
                                    [alt] => 
                                    [author] => 1
                                    [description] => 
                                    [caption] => 
                                    [name] => powerful-platform-01
                                    [status] => inherit
                                    [uploaded_to] => 620
                                    [date] => 2022-01-24 13:11:39
                                    [modified] => 2022-01-24 13:11:39
                                    [menu_order] => 0
                                    [mime_type] => image/png
                                    [type] => image
                                    [subtype] => png
                                    [icon] => https://omniplexlearning.com/wp-includes/images/media/default.png
                                    [width] => 1140
                                    [height] => 598
                                    [sizes] => Array
                                        (
                                            [thumbnail] => https://omniplexlearning.com/wp-content/uploads/2021/12/powerful-platform-01-150x150.png
                                            [thumbnail-width] => 150
                                            [thumbnail-height] => 150
                                            [medium] => https://omniplexlearning.com/wp-content/uploads/2021/12/powerful-platform-01-300x157.png
                                            [medium-width] => 300
                                            [medium-height] => 157
                                            [medium_large] => https://omniplexlearning.com/wp-content/uploads/2021/12/powerful-platform-01-768x403.png
                                            [medium_large-width] => 640
                                            [medium_large-height] => 336
                                            [large] => https://omniplexlearning.com/wp-content/uploads/2021/12/powerful-platform-01-1024x537.png
                                            [large-width] => 640
                                            [large-height] => 336
                                            [1536x1536] => https://omniplexlearning.com/wp-content/uploads/2021/12/powerful-platform-01.png
                                            [1536x1536-width] => 1140
                                            [1536x1536-height] => 598
                                            [2048x2048] => https://omniplexlearning.com/wp-content/uploads/2021/12/powerful-platform-01.png
                                            [2048x2048-width] => 1140
                                            [2048x2048-height] => 598
                                            [woocommerce_thumbnail] => https://omniplexlearning.com/wp-content/uploads/2021/12/powerful-platform-01-300x300.png
                                            [woocommerce_thumbnail-width] => 300
                                            [woocommerce_thumbnail-height] => 300
                                            [woocommerce_single] => https://omniplexlearning.com/wp-content/uploads/2021/12/powerful-platform-01-600x315.png
                                            [woocommerce_single-width] => 600
                                            [woocommerce_single-height] => 315
                                            [woocommerce_gallery_thumbnail] => https://omniplexlearning.com/wp-content/uploads/2021/12/powerful-platform-01-100x100.png
                                            [woocommerce_gallery_thumbnail-width] => 100
                                            [woocommerce_gallery_thumbnail-height] => 100
                                            [shop_catalog] => https://omniplexlearning.com/wp-content/uploads/2021/12/powerful-platform-01-300x300.png
                                            [shop_catalog-width] => 300
                                            [shop_catalog-height] => 300
                                            [shop_single] => https://omniplexlearning.com/wp-content/uploads/2021/12/powerful-platform-01-600x315.png
                                            [shop_single-width] => 600
                                            [shop_single-height] => 315
                                            [shop_thumbnail] => https://omniplexlearning.com/wp-content/uploads/2021/12/powerful-platform-01-100x100.png
                                            [shop_thumbnail-width] => 100
                                            [shop_thumbnail-height] => 100
                                        )

                                )

                            [title] => A powerful platform
                            [info] => Self-explanatory, intuitive and easy to use interfaces, high levels of automation and reporting data make this the ultimate learning management system.

                        )

                    [1] => Array
                        (
                            [image] => Array
                                (
                                    [ID] => 7912
                                    [id] => 7912
                                    [title] => Why Docebo - Customise to your organisation
                                    [filename] => Why-Docebo-Customise-to-your-organisation.jpg
                                    [filesize] => 59405
                                    [url] => https://omniplexlearning.com/wp-content/uploads/2021/12/Why-Docebo-Customise-to-your-organisation.jpg
                                    [link] => https://omniplexlearning.com/product/docebo/why-docebo-customise-to-your-organisation/
                                    [alt] => 
                                    [author] => 1
                                    [description] => 
                                    [caption] => 
                                    [name] => why-docebo-customise-to-your-organisation
                                    [status] => inherit
                                    [uploaded_to] => 620
                                    [date] => 2022-01-20 16:21:06
                                    [modified] => 2022-01-20 16:21:06
                                    [menu_order] => 0
                                    [mime_type] => image/jpeg
                                    [type] => image
                                    [subtype] => jpeg
                                    [icon] => https://omniplexlearning.com/wp-includes/images/media/default.png
                                    [width] => 1140
                                    [height] => 598
                                    [sizes] => Array
                                        (
                                            [thumbnail] => https://omniplexlearning.com/wp-content/uploads/2021/12/Why-Docebo-Customise-to-your-organisation-150x150.jpg
                                            [thumbnail-width] => 150
                                            [thumbnail-height] => 150
                                            [medium] => https://omniplexlearning.com/wp-content/uploads/2021/12/Why-Docebo-Customise-to-your-organisation-300x157.jpg
                                            [medium-width] => 300
                                            [medium-height] => 157
                                            [medium_large] => https://omniplexlearning.com/wp-content/uploads/2021/12/Why-Docebo-Customise-to-your-organisation-768x403.jpg
                                            [medium_large-width] => 640
                                            [medium_large-height] => 336
                                            [large] => https://omniplexlearning.com/wp-content/uploads/2021/12/Why-Docebo-Customise-to-your-organisation-1024x537.jpg
                                            [large-width] => 640
                                            [large-height] => 336
                                            [1536x1536] => https://omniplexlearning.com/wp-content/uploads/2021/12/Why-Docebo-Customise-to-your-organisation.jpg
                                            [1536x1536-width] => 1140
                                            [1536x1536-height] => 598
                                            [2048x2048] => https://omniplexlearning.com/wp-content/uploads/2021/12/Why-Docebo-Customise-to-your-organisation.jpg
                                            [2048x2048-width] => 1140
                                            [2048x2048-height] => 598
                                            [woocommerce_thumbnail] => https://omniplexlearning.com/wp-content/uploads/2021/12/Why-Docebo-Customise-to-your-organisation-300x300.jpg
                                            [woocommerce_thumbnail-width] => 300
                                            [woocommerce_thumbnail-height] => 300
                                            [woocommerce_single] => https://omniplexlearning.com/wp-content/uploads/2021/12/Why-Docebo-Customise-to-your-organisation-600x315.jpg
                                            [woocommerce_single-width] => 600
                                            [woocommerce_single-height] => 315
                                            [woocommerce_gallery_thumbnail] => https://omniplexlearning.com/wp-content/uploads/2021/12/Why-Docebo-Customise-to-your-organisation-100x100.jpg
                                            [woocommerce_gallery_thumbnail-width] => 100
                                            [woocommerce_gallery_thumbnail-height] => 100
                                            [shop_catalog] => https://omniplexlearning.com/wp-content/uploads/2021/12/Why-Docebo-Customise-to-your-organisation-300x300.jpg
                                            [shop_catalog-width] => 300
                                            [shop_catalog-height] => 300
                                            [shop_single] => https://omniplexlearning.com/wp-content/uploads/2021/12/Why-Docebo-Customise-to-your-organisation-600x315.jpg
                                            [shop_single-width] => 600
                                            [shop_single-height] => 315
                                            [shop_thumbnail] => https://omniplexlearning.com/wp-content/uploads/2021/12/Why-Docebo-Customise-to-your-organisation-100x100.jpg
                                            [shop_thumbnail-width] => 100
                                            [shop_thumbnail-height] => 100
                                        )

                                )

                            [title] => Customise to suit your organisation
                            [info] => Configure the system for both internal and external audiences. Control the look, feel and how the system behaves to suit you.

                        )

                    [2] => Array
                        (
                            [image] => Array
                                (
                                    [ID] => 9822
                                    [id] => 9822
                                    [title] => Why docebo - measurement-01
                                    [filename] => Why-docebo-measurement-01.png
                                    [filesize] => 95631
                                    [url] => https://omniplexlearning.com/wp-content/uploads/2021/12/Why-docebo-measurement-01.png
                                    [link] => https://omniplexlearning.com/product/docebo/why-docebo-measurement-01/
                                    [alt] => 
                                    [author] => 1
                                    [description] => 
                                    [caption] => 
                                    [name] => why-docebo-measurement-01
                                    [status] => inherit
                                    [uploaded_to] => 620
                                    [date] => 2022-01-24 12:51:41
                                    [modified] => 2022-01-24 12:51:41
                                    [menu_order] => 0
                                    [mime_type] => image/png
                                    [type] => image
                                    [subtype] => png
                                    [icon] => https://omniplexlearning.com/wp-includes/images/media/default.png
                                    [width] => 1140
                                    [height] => 598
                                    [sizes] => Array
                                        (
                                            [thumbnail] => https://omniplexlearning.com/wp-content/uploads/2021/12/Why-docebo-measurement-01-150x150.png
                                            [thumbnail-width] => 150
                                            [thumbnail-height] => 150
                                            [medium] => https://omniplexlearning.com/wp-content/uploads/2021/12/Why-docebo-measurement-01-300x157.png
                                            [medium-width] => 300
                                            [medium-height] => 157
                                            [medium_large] => https://omniplexlearning.com/wp-content/uploads/2021/12/Why-docebo-measurement-01-768x403.png
                                            [medium_large-width] => 640
                                            [medium_large-height] => 336
                                            [large] => https://omniplexlearning.com/wp-content/uploads/2021/12/Why-docebo-measurement-01-1024x537.png
                                            [large-width] => 640
                                            [large-height] => 336
                                            [1536x1536] => https://omniplexlearning.com/wp-content/uploads/2021/12/Why-docebo-measurement-01.png
                                            [1536x1536-width] => 1140
                                            [1536x1536-height] => 598
                                            [2048x2048] => https://omniplexlearning.com/wp-content/uploads/2021/12/Why-docebo-measurement-01.png
                                            [2048x2048-width] => 1140
                                            [2048x2048-height] => 598
                                            [woocommerce_thumbnail] => https://omniplexlearning.com/wp-content/uploads/2021/12/Why-docebo-measurement-01-300x300.png
                                            [woocommerce_thumbnail-width] => 300
                                            [woocommerce_thumbnail-height] => 300
                                            [woocommerce_single] => https://omniplexlearning.com/wp-content/uploads/2021/12/Why-docebo-measurement-01-600x315.png
                                            [woocommerce_single-width] => 600
                                            [woocommerce_single-height] => 315
                                            [woocommerce_gallery_thumbnail] => https://omniplexlearning.com/wp-content/uploads/2021/12/Why-docebo-measurement-01-100x100.png
                                            [woocommerce_gallery_thumbnail-width] => 100
                                            [woocommerce_gallery_thumbnail-height] => 100
                                            [shop_catalog] => https://omniplexlearning.com/wp-content/uploads/2021/12/Why-docebo-measurement-01-300x300.png
                                            [shop_catalog-width] => 300
                                            [shop_catalog-height] => 300
                                            [shop_single] => https://omniplexlearning.com/wp-content/uploads/2021/12/Why-docebo-measurement-01-600x315.png
                                            [shop_single-width] => 600
                                            [shop_single-height] => 315
                                            [shop_thumbnail] => https://omniplexlearning.com/wp-content/uploads/2021/12/Why-docebo-measurement-01-100x100.png
                                            [shop_thumbnail-width] => 100
                                            [shop_thumbnail-height] => 100
                                        )

                                )

                            [title] => Measurement at all levels
                            [info] => Implement an evaluation and measurement process at all levels of the Kirkpatrick model and benchmark the results to industry standards.

                        )

                    [3] => Array
                        (
                            [image] => Array
                                (
                                    [ID] => 9826
                                    [id] => 9826
                                    [title] => Flexible model-01
                                    [filename] => Flexible-model-01.png
                                    [filesize] => 398390
                                    [url] => https://omniplexlearning.com/wp-content/uploads/2021/12/Flexible-model-01.png
                                    [link] => https://omniplexlearning.com/product/docebo/flexible-model-01/
                                    [alt] => 
                                    [author] => 1
                                    [description] => 
                                    [caption] => 
                                    [name] => flexible-model-01
                                    [status] => inherit
                                    [uploaded_to] => 620
                                    [date] => 2022-01-24 13:16:29
                                    [modified] => 2022-01-24 13:16:29
                                    [menu_order] => 0
                                    [mime_type] => image/png
                                    [type] => image
                                    [subtype] => png
                                    [icon] => https://omniplexlearning.com/wp-includes/images/media/default.png
                                    [width] => 1140
                                    [height] => 598
                                    [sizes] => Array
                                        (
                                            [thumbnail] => https://omniplexlearning.com/wp-content/uploads/2021/12/Flexible-model-01-150x150.png
                                            [thumbnail-width] => 150
                                            [thumbnail-height] => 150
                                            [medium] => https://omniplexlearning.com/wp-content/uploads/2021/12/Flexible-model-01-300x157.png
                                            [medium-width] => 300
                                            [medium-height] => 157
                                            [medium_large] => https://omniplexlearning.com/wp-content/uploads/2021/12/Flexible-model-01-768x403.png
                                            [medium_large-width] => 640
                                            [medium_large-height] => 336
                                            [large] => https://omniplexlearning.com/wp-content/uploads/2021/12/Flexible-model-01-1024x537.png
                                            [large-width] => 640
                                            [large-height] => 336
                                            [1536x1536] => https://omniplexlearning.com/wp-content/uploads/2021/12/Flexible-model-01.png
                                            [1536x1536-width] => 1140
                                            [1536x1536-height] => 598
                                            [2048x2048] => https://omniplexlearning.com/wp-content/uploads/2021/12/Flexible-model-01.png
                                            [2048x2048-width] => 1140
                                            [2048x2048-height] => 598
                                            [woocommerce_thumbnail] => https://omniplexlearning.com/wp-content/uploads/2021/12/Flexible-model-01-300x300.png
                                            [woocommerce_thumbnail-width] => 300
                                            [woocommerce_thumbnail-height] => 300
                                            [woocommerce_single] => https://omniplexlearning.com/wp-content/uploads/2021/12/Flexible-model-01-600x315.png
                                            [woocommerce_single-width] => 600
                                            [woocommerce_single-height] => 315
                                            [woocommerce_gallery_thumbnail] => https://omniplexlearning.com/wp-content/uploads/2021/12/Flexible-model-01-100x100.png
                                            [woocommerce_gallery_thumbnail-width] => 100
                                            [woocommerce_gallery_thumbnail-height] => 100
                                            [shop_catalog] => https://omniplexlearning.com/wp-content/uploads/2021/12/Flexible-model-01-300x300.png
                                            [shop_catalog-width] => 300
                                            [shop_catalog-height] => 300
                                            [shop_single] => https://omniplexlearning.com/wp-content/uploads/2021/12/Flexible-model-01-600x315.png
                                            [shop_single-width] => 600
                                            [shop_single-height] => 315
                                            [shop_thumbnail] => https://omniplexlearning.com/wp-content/uploads/2021/12/Flexible-model-01-100x100.png
                                            [shop_thumbnail-width] => 100
                                            [shop_thumbnail-height] => 100
                                        )

                                )

                            [title] => Flexible pricing model
                            [info] => Only pay for learners who are actively utilising the platform with active monthly user fees - a cost efficent external learning solution.
                        )

                )

            [element_type] => h2
        )

    [2] => Array
        (
            [acf_fc_layout] => cta
            [tag] => Docebo
            [title] => See Docebo in action
            [link_1] => Array
                (
                    [title] => Book a Demo
                    [url] => #request_form
                    [target] => 
                )

            [link_2] => 
            [image] => Array
                (
                    [ID] => 7905
                    [id] => 7905
                    [title] => Module 3 - See Docebo in action
                    [filename] => Module-3-See-Docebo-in-action.png
                    [filesize] => 38993
                    [url] => https://omniplexlearning.com/wp-content/uploads/2021/12/Module-3-See-Docebo-in-action.png
                    [link] => https://omniplexlearning.com/product/docebo/module-3-see-docebo-in-action/
                    [alt] => 
                    [author] => 1
                    [description] => 
                    [caption] => 
                    [name] => module-3-see-docebo-in-action
                    [status] => inherit
                    [uploaded_to] => 620
                    [date] => 2022-01-20 16:17:57
                    [modified] => 2022-01-20 16:17:57
                    [menu_order] => 0
                    [mime_type] => image/png
                    [type] => image
                    [subtype] => png
                    [icon] => https://omniplexlearning.com/wp-includes/images/media/default.png
                    [width] => 818
                    [height] => 820
                    [sizes] => Array
                        (
                            [thumbnail] => https://omniplexlearning.com/wp-content/uploads/2021/12/Module-3-See-Docebo-in-action-150x150.png
                            [thumbnail-width] => 150
                            [thumbnail-height] => 150
                            [medium] => https://omniplexlearning.com/wp-content/uploads/2021/12/Module-3-See-Docebo-in-action-300x300.png
                            [medium-width] => 300
                            [medium-height] => 300
                            [medium_large] => https://omniplexlearning.com/wp-content/uploads/2021/12/Module-3-See-Docebo-in-action-768x770.png
                            [medium_large-width] => 640
                            [medium_large-height] => 642
                            [large] => https://omniplexlearning.com/wp-content/uploads/2021/12/Module-3-See-Docebo-in-action.png
                            [large-width] => 640
                            [large-height] => 642
                            [1536x1536] => https://omniplexlearning.com/wp-content/uploads/2021/12/Module-3-See-Docebo-in-action.png
                            [1536x1536-width] => 818
                            [1536x1536-height] => 820
                            [2048x2048] => https://omniplexlearning.com/wp-content/uploads/2021/12/Module-3-See-Docebo-in-action.png
                            [2048x2048-width] => 818
                            [2048x2048-height] => 820
                            [woocommerce_thumbnail] => https://omniplexlearning.com/wp-content/uploads/2021/12/Module-3-See-Docebo-in-action-300x300.png
                            [woocommerce_thumbnail-width] => 300
                            [woocommerce_thumbnail-height] => 300
                            [woocommerce_single] => https://omniplexlearning.com/wp-content/uploads/2021/12/Module-3-See-Docebo-in-action-600x601.png
                            [woocommerce_single-width] => 600
                            [woocommerce_single-height] => 601
                            [woocommerce_gallery_thumbnail] => https://omniplexlearning.com/wp-content/uploads/2021/12/Module-3-See-Docebo-in-action-100x100.png
                            [woocommerce_gallery_thumbnail-width] => 100
                            [woocommerce_gallery_thumbnail-height] => 100
                            [shop_catalog] => https://omniplexlearning.com/wp-content/uploads/2021/12/Module-3-See-Docebo-in-action-300x300.png
                            [shop_catalog-width] => 300
                            [shop_catalog-height] => 300
                            [shop_single] => https://omniplexlearning.com/wp-content/uploads/2021/12/Module-3-See-Docebo-in-action-600x601.png
                            [shop_single-width] => 600
                            [shop_single-height] => 601
                            [shop_thumbnail] => https://omniplexlearning.com/wp-content/uploads/2021/12/Module-3-See-Docebo-in-action-100x100.png
                            [shop_thumbnail-width] => 100
                            [shop_thumbnail-height] => 100
                        )

                )

            [info] => A modern, cloud-based and integrated learning management system that can deliver on every element of your learning and development strategy.
            [element_type] => 
        )

    [3] => Array
        (
            [acf_fc_layout] => tabs_with_ico
            [title] => Power your learning programmes with a single or multiple Docebo products
            [tabs] => Array
                (
                    [0] => Array
                        (
                            [ico] => https://omniplexlearning.com/wp-content/uploads/2021/12/Image-12.png
                            [image] => https://omniplexlearning.com/wp-content/uploads/2021/12/Module-4-Learn-LMS.png
                            [title] => Learn LMS
                            [content] => An AI-powered learning management system that delivers scalable and flexible personalised learning experiences. From formal training, social learning to blended experiences.

                            [link] => Array
                                (
                                    [title] => Book a Demo
                                    [url] => #request_form
                                    [target] => 
                                )

                        )

                    [1] => Array
                        (
                            [ico] => https://omniplexlearning.com/wp-content/uploads/2021/12/Image-9.png
                            [image] => https://omniplexlearning.com/wp-content/uploads/2021/12/Module-4-Learn-Impact.png
                            [title] => Learning Impact
                            [content] => A learning measurement tool for qualitative insights. Measure the impact of your training programmes, with optimised questionnaires, learning benchmarks and actionable next steps.

                            [link] => Array
                                (
                                    [title] => Book a Demo
                                    [url] => #request_form
                                    [target] => 
                                )

                        )

                    [2] => Array
                        (
                            [ico] => https://omniplexlearning.com/wp-content/uploads/2021/12/learning-analytics-e1643023842821.png
                            [image] => https://omniplexlearning.com/wp-content/uploads/2021/12/Module-4-Learning-Analytics.png
                            [title] => Learn Data
                            [content] => Learn Data centralises your data in one safe, convenient place: Your existing BI and data ecosystem. This keeps your tech stack lean and empowers the tools you already use.

                            [link] => Array
                                (
                                    [title] => Book a Demo
                                    [url] => #request_form
                                    [target] => 
                                )

                        )

                    [3] => Array
                        (
                            [ico] => https://omniplexlearning.com/wp-content/uploads/2021/12/Connect.png
                            [image] => https://omniplexlearning.com/wp-content/uploads/Flexible-model-01.png
                            [title] => Connect
                            [content] => Connect your platform with over 400 third-party integrations designed to make your learning and business systems work together. 

                            [link] => Array
                                (
                                    [title] => Book a Demo
                                    [url] => #request_form
                                    [target] => 
                                )

                        )

                    [4] => Array
                        (
                            [ico] => https://omniplexlearning.com/wp-content/uploads/2021/12/Shape-docebo-e1643023989777.png
                            [image] => https://omniplexlearning.com/wp-content/uploads/2021/12/Module-4-Shape.gif
                            [title] => Shape
                            [content] => Build eLearning content to share across your business within minutes with this AI-based content creation tool.
                            [link] => Array
                                (
                                    [title] => Book a Demo
                                    [url] => #request_form
                                    [target] => 
                                )

                        )

                )

            [element_type] => 
        )

    [4] => Array
        (
            [acf_fc_layout] => reviews
            [reviews] => Array
                (
                    [0] => Array
                        (
                            [image] => https://omniplexlearning.com/wp-content/uploads/2021/11/Group-3257-1.svg
                            [reviews] => "The support that I've received from Omniplex Learning has been brilliant. I could not have asked for more from a training partner. This  gives me the confidence achieve my learning strategies."
                            [from] => James Petrie
                            [post] => L&D Manager, Sykes
                        )

                )

        )

    [5] => Array
        (
            [acf_fc_layout] => request_form
            [icon_image] => Array
                (
                    [ID] => 9829
                    [id] => 9829
                    [title] => docebo-logo
                    [filename] => docebo-logo-1-e1644830420345.png
                    [filesize] => 1893
                    [url] => https://omniplexlearning.com/wp-content/uploads/2021/12/docebo-logo-1-e1644830420345.png
                    [link] => https://omniplexlearning.com/product/docebo/docebo-logo-2/
                    [alt] => 
                    [author] => 1
                    [description] => 
                    [caption] => 
                    [name] => docebo-logo-2
                    [status] => inherit
                    [uploaded_to] => 620
                    [date] => 2022-01-24 13:38:02
                    [modified] => 2022-01-24 13:38:02
                    [menu_order] => 0
                    [mime_type] => image/png
                    [type] => image
                    [subtype] => png
                    [icon] => https://omniplexlearning.com/wp-includes/images/media/default.png
                    [width] => 60
                    [height] => 60
                    [sizes] => Array
                        (
                            [thumbnail] => https://omniplexlearning.com/wp-content/uploads/2021/12/docebo-logo-1-150x150.png
                            [thumbnail-width] => 150
                            [thumbnail-height] => 150
                            [medium] => https://omniplexlearning.com/wp-content/uploads/2021/12/docebo-logo-1-300x300.png
                            [medium-width] => 300
                            [medium-height] => 300
                            [medium_large] => https://omniplexlearning.com/wp-content/uploads/2021/12/docebo-logo-1-e1644830420345.png
                            [medium_large-width] => 60
                            [medium_large-height] => 60
                            [large] => https://omniplexlearning.com/wp-content/uploads/2021/12/docebo-logo-1-e1644830420345.png
                            [large-width] => 60
                            [large-height] => 60
                            [1536x1536] => https://omniplexlearning.com/wp-content/uploads/2021/12/docebo-logo-1-e1644830420345.png
                            [1536x1536-width] => 60
                            [1536x1536-height] => 60
                            [2048x2048] => https://omniplexlearning.com/wp-content/uploads/2021/12/docebo-logo-1-e1644830420345.png
                            [2048x2048-width] => 60
                            [2048x2048-height] => 60
                            [woocommerce_thumbnail] => https://omniplexlearning.com/wp-content/uploads/2021/12/docebo-logo-1-300x300.png
                            [woocommerce_thumbnail-width] => 300
                            [woocommerce_thumbnail-height] => 300
                            [woocommerce_single] => https://omniplexlearning.com/wp-content/uploads/2021/12/docebo-logo-1-e1644830420345.png
                            [woocommerce_single-width] => 60
                            [woocommerce_single-height] => 60
                            [woocommerce_gallery_thumbnail] => https://omniplexlearning.com/wp-content/uploads/2021/12/docebo-logo-1-100x100.png
                            [woocommerce_gallery_thumbnail-width] => 100
                            [woocommerce_gallery_thumbnail-height] => 100
                            [shop_catalog] => https://omniplexlearning.com/wp-content/uploads/2021/12/docebo-logo-1-300x300.png
                            [shop_catalog-width] => 300
                            [shop_catalog-height] => 300
                            [shop_single] => https://omniplexlearning.com/wp-content/uploads/2021/12/docebo-logo-1-e1644830420345.png
                            [shop_single-width] => 60
                            [shop_single-height] => 60
                            [shop_thumbnail] => https://omniplexlearning.com/wp-content/uploads/2021/12/docebo-logo-1-100x100.png
                            [shop_thumbnail-width] => 100
                            [shop_thumbnail-height] => 100
                        )

                )

            [tag] => DOCEBO
            [title] => Unlock your learning culture today

            [blocks] => 
            [info] => 

If you have any questions, please email [email protected]



            [request_demo_form_switch] => 1
            [request_demo_form_title] => Request a Live Demo
            [request_demo_form_content] => Align the training needs of your organisation to those of your learners with an L&D ecosystem. Request your live demo now.
            [request_demo_form_code] => [gravityform id="3" ajax=true title=false description=false ajax=true]
            [free_trial] => 
            [free_trial_title] => 
            [free_trial_info] => 
            [free_trial_price] => 
            [free_trial_price_info] => 
            [free_trial_Link] => 
            [element_type] => 
        )

    [6] => Array
        (
            [acf_fc_layout] => explore_more_style2
            [title] => Explore more at Omniplex Learning
            [info] => Whatever your learning requirements, our complete learning solution has the right combination of products and services to improve performance for your people and organisation. 
            [explore] => Array
                (
                    [0] => Array
                        (
                            [ico] => https://omniplexlearning.com/wp-content/uploads/2021/11/Group-3308.png
                            [title] => Articulate 360
                            [info] => Award-winning authoring apps, one simple subscription.
                            [image] => Array
                                (
                                    [ID] => 10878
                                    [id] => 10878
                                    [title] => Articulate 360 em-01
                                    [filename] => Articulate-360-em-01-e1643204813389.png
                                    [filesize] => 100518
                                    [url] => https://omniplexlearning.com/wp-content/uploads/2021/11/Articulate-360-em-01-e1643204813389.png
                                    [link] => https://omniplexlearning.com/product/articulate-storyline-3/articulate-360-em-01/
                                    [alt] => 
                                    [author] => 1
                                    [description] => 
                                    [caption] => 
                                    [name] => articulate-360-em-01
                                    [status] => inherit
                                    [uploaded_to] => 479
                                    [date] => 2022-01-26 13:46:37
                                    [modified] => 2022-01-26 13:46:37
                                    [menu_order] => 0
                                    [mime_type] => image/png
                                    [type] => image
                                    [subtype] => png
                                    [icon] => https://omniplexlearning.com/wp-includes/images/media/default.png
                                    [width] => 500
                                    [height] => 727
                                    [sizes] => Array
                                        (
                                            [thumbnail] => https://omniplexlearning.com/wp-content/uploads/2021/11/Articulate-360-em-01-150x150.png
                                            [thumbnail-width] => 150
                                            [thumbnail-height] => 150
                                            [medium] => https://omniplexlearning.com/wp-content/uploads/2021/11/Articulate-360-em-01-206x300.png
                                            [medium-width] => 206
                                            [medium-height] => 300
                                            [medium_large] => https://omniplexlearning.com/wp-content/uploads/2021/11/Articulate-360-em-01-768x1117.png
                                            [medium_large-width] => 640
                                            [medium_large-height] => 931
                                            [large] => https://omniplexlearning.com/wp-content/uploads/2021/11/Articulate-360-em-01-704x1024.png
                                            [large-width] => 640
                                            [large-height] => 931
                                            [1536x1536] => https://omniplexlearning.com/wp-content/uploads/2021/11/Articulate-360-em-01-1056x1536.png
                                            [1536x1536-width] => 1056
                                            [1536x1536-height] => 1536
                                            [2048x2048] => https://omniplexlearning.com/wp-content/uploads/2021/11/Articulate-360-em-01-1409x2048.png
                                            [2048x2048-width] => 1409
                                            [2048x2048-height] => 2048
                                            [woocommerce_thumbnail] => https://omniplexlearning.com/wp-content/uploads/2021/11/Articulate-360-em-01-300x300.png
                                            [woocommerce_thumbnail-width] => 300
                                            [woocommerce_thumbnail-height] => 300
                                            [woocommerce_single] => https://omniplexlearning.com/wp-content/uploads/2021/11/Articulate-360-em-01-600x872.png
                                            [woocommerce_single-width] => 600
                                            [woocommerce_single-height] => 872
                                            [woocommerce_gallery_thumbnail] => https://omniplexlearning.com/wp-content/uploads/2021/11/Articulate-360-em-01-100x100.png
                                            [woocommerce_gallery_thumbnail-width] => 100
                                            [woocommerce_gallery_thumbnail-height] => 100
                                            [shop_catalog] => https://omniplexlearning.com/wp-content/uploads/2021/11/Articulate-360-em-01-300x300.png
                                            [shop_catalog-width] => 300
                                            [shop_catalog-height] => 300
                                            [shop_single] => https://omniplexlearning.com/wp-content/uploads/2021/11/Articulate-360-em-01-600x872.png
                                            [shop_single-width] => 600
                                            [shop_single-height] => 872
                                            [shop_thumbnail] => https://omniplexlearning.com/wp-content/uploads/2021/11/Articulate-360-em-01-100x100.png
                                            [shop_thumbnail-width] => 100
                                            [shop_thumbnail-height] => 100
                                        )

                                )

                            [link] => /product/articulate-360/
                        )

                    [1] => Array
                        (
                            [ico] => https://omniplexlearning.com/wp-content/uploads/2021/11/Group-3262-1.svg
                            [title] => Design & Content 
                            [info] => Develop next generation learning experiences with your content.
                            [image] => Array
                                (
                                    [ID] => 10874
                                    [id] => 10874
                                    [title] => Design and content-01
                                    [filename] => Design-and-content-01-e1643203593282.png
                                    [filesize] => 71287
                                    [url] => https://omniplexlearning.com/wp-content/uploads/2021/12/Design-and-content-01-e1643203593282.png
                                    [link] => https://omniplexlearning.com/product/articulate-360/design-and-content-01/
                                    [alt] => An image of a piece of content.
                                    [author] => 1
                                    [description] => 
                                    [caption] => 
                                    [name] => design-and-content-01
                                    [status] => inherit
                                    [uploaded_to] => 682
                                    [date] => 2022-01-26 13:26:15
                                    [modified] => 2022-03-02 16:17:34
                                    [menu_order] => 0
                                    [mime_type] => image/png
                                    [type] => image
                                    [subtype] => png
                                    [icon] => https://omniplexlearning.com/wp-includes/images/media/default.png
                                    [width] => 500
                                    [height] => 727
                                    [sizes] => Array
                                        (
                                            [thumbnail] => https://omniplexlearning.com/wp-content/uploads/2021/12/Design-and-content-01-150x150.png
                                            [thumbnail-width] => 150
                                            [thumbnail-height] => 150
                                            [medium] => https://omniplexlearning.com/wp-content/uploads/2021/12/Design-and-content-01-206x300.png
                                            [medium-width] => 206
                                            [medium-height] => 300
                                            [medium_large] => https://omniplexlearning.com/wp-content/uploads/2021/12/Design-and-content-01-768x1117.png
                                            [medium_large-width] => 640
                                            [medium_large-height] => 931
                                            [large] => https://omniplexlearning.com/wp-content/uploads/2021/12/Design-and-content-01-704x1024.png
                                            [large-width] => 640
                                            [large-height] => 931
                                            [1536x1536] => https://omniplexlearning.com/wp-content/uploads/2021/12/Design-and-content-01-1056x1536.png
                                            [1536x1536-width] => 1056
                                            [1536x1536-height] => 1536
                                            [2048x2048] => https://omniplexlearning.com/wp-content/uploads/2021/12/Design-and-content-01-1409x2048.png
                                            [2048x2048-width] => 1409
                                            [2048x2048-height] => 2048
                                            [woocommerce_thumbnail] => https://omniplexlearning.com/wp-content/uploads/2021/12/Design-and-content-01-300x300.png
                                            [woocommerce_thumbnail-width] => 300
                                            [woocommerce_thumbnail-height] => 300
                                            [woocommerce_single] => https://omniplexlearning.com/wp-content/uploads/2021/12/Design-and-content-01-600x872.png
                                            [woocommerce_single-width] => 600
                                            [woocommerce_single-height] => 872
                                            [woocommerce_gallery_thumbnail] => https://omniplexlearning.com/wp-content/uploads/2021/12/Design-and-content-01-100x100.png
                                            [woocommerce_gallery_thumbnail-width] => 100
                                            [woocommerce_gallery_thumbnail-height] => 100
                                            [shop_catalog] => https://omniplexlearning.com/wp-content/uploads/2021/12/Design-and-content-01-300x300.png
                                            [shop_catalog-width] => 300
                                            [shop_catalog-height] => 300
                                            [shop_single] => https://omniplexlearning.com/wp-content/uploads/2021/12/Design-and-content-01-600x872.png
                                            [shop_single-width] => 600
                                            [shop_single-height] => 872
                                            [shop_thumbnail] => https://omniplexlearning.com/wp-content/uploads/2021/12/Design-and-content-01-100x100.png
                                            [shop_thumbnail-width] => 100
                                            [shop_thumbnail-height] => 100
                                        )

                                )

                            [link] => /services/design-and-content/
                        )

                    [2] => Array
                        (
                            [ico] => https://omniplexlearning.com/wp-content/uploads/2021/11/Group-3254-1.svg
                            [title] => Blog
                            [info] => Stay up to date with the latest news and  product updates.
                            [image] => Array
                                (
                                    [ID] => 10881
                                    [id] => 10881
                                    [title] => BLog-01
                                    [filename] => BLog-01-e1643205884898.png
                                    [filesize] => 181761
                                    [url] => https://omniplexlearning.com/wp-content/uploads/2021/12/BLog-01-e1643205884898.png
                                    [link] => https://omniplexlearning.com/product/docebo/blog-01/
                                    [alt] => 
                                    [author] => 1
                                    [description] => 
                                    [caption] => 
                                    [name] => blog-01
                                    [status] => inherit
                                    [uploaded_to] => 620
                                    [date] => 2022-01-26 14:04:30
                                    [modified] => 2022-01-26 14:04:30
                                    [menu_order] => 0
                                    [mime_type] => image/png
                                    [type] => image
                                    [subtype] => png
                                    [icon] => https://omniplexlearning.com/wp-includes/images/media/default.png
                                    [width] => 500
                                    [height] => 727
                                    [sizes] => Array
                                        (
                                            [thumbnail] => https://omniplexlearning.com/wp-content/uploads/2021/12/BLog-01-150x150.png
                                            [thumbnail-width] => 150
                                            [thumbnail-height] => 150
                                            [medium] => https://omniplexlearning.com/wp-content/uploads/2021/12/BLog-01-206x300.png
                                            [medium-width] => 206
                                            [medium-height] => 300
                                            [medium_large] => https://omniplexlearning.com/wp-content/uploads/2021/12/BLog-01-768x1117.png
                                            [medium_large-width] => 640
                                            [medium_large-height] => 931
                                            [large] => https://omniplexlearning.com/wp-content/uploads/2021/12/BLog-01-704x1024.png
                                            [large-width] => 640
                                            [large-height] => 931
                                            [1536x1536] => https://omniplexlearning.com/wp-content/uploads/2021/12/BLog-01-1056x1536.png
                                            [1536x1536-width] => 1056
                                            [1536x1536-height] => 1536
                                            [2048x2048] => https://omniplexlearning.com/wp-content/uploads/2021/12/BLog-01-1409x2048.png
                                            [2048x2048-width] => 1409
                                            [2048x2048-height] => 2048
                                            [woocommerce_thumbnail] => https://omniplexlearning.com/wp-content/uploads/2021/12/BLog-01-300x300.png
                                            [woocommerce_thumbnail-width] => 300
                                            [woocommerce_thumbnail-height] => 300
                                            [woocommerce_single] => https://omniplexlearning.com/wp-content/uploads/2021/12/BLog-01-600x872.png
                                            [woocommerce_single-width] => 600
                                            [woocommerce_single-height] => 872
                                            [woocommerce_gallery_thumbnail] => https://omniplexlearning.com/wp-content/uploads/2021/12/BLog-01-100x100.png
                                            [woocommerce_gallery_thumbnail-width] => 100
                                            [woocommerce_gallery_thumbnail-height] => 100
                                            [shop_catalog] => https://omniplexlearning.com/wp-content/uploads/2021/12/BLog-01-300x300.png
                                            [shop_catalog-width] => 300
                                            [shop_catalog-height] => 300
                                            [shop_single] => https://omniplexlearning.com/wp-content/uploads/2021/12/BLog-01-600x872.png
                                            [shop_single-width] => 600
                                            [shop_single-height] => 872
                                            [shop_thumbnail] => https://omniplexlearning.com/wp-content/uploads/2021/12/BLog-01-100x100.png
                                            [shop_thumbnail-width] => 100
                                            [shop_thumbnail-height] => 100
                                        )

                                )

                            [link] => /blog
                        )

                )

            [element_type] => 
        )

)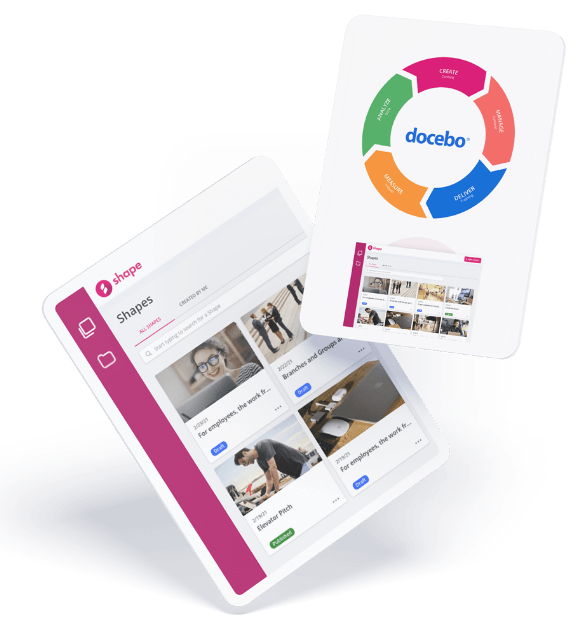 Docebo
The complete Learning Management System
As Docebo's trusted strategic partner, we give you the opportunity to utilise tools from the Docebo Learning suite. Deliver AI-powered learning, functionality that works and scale to your organisations needs.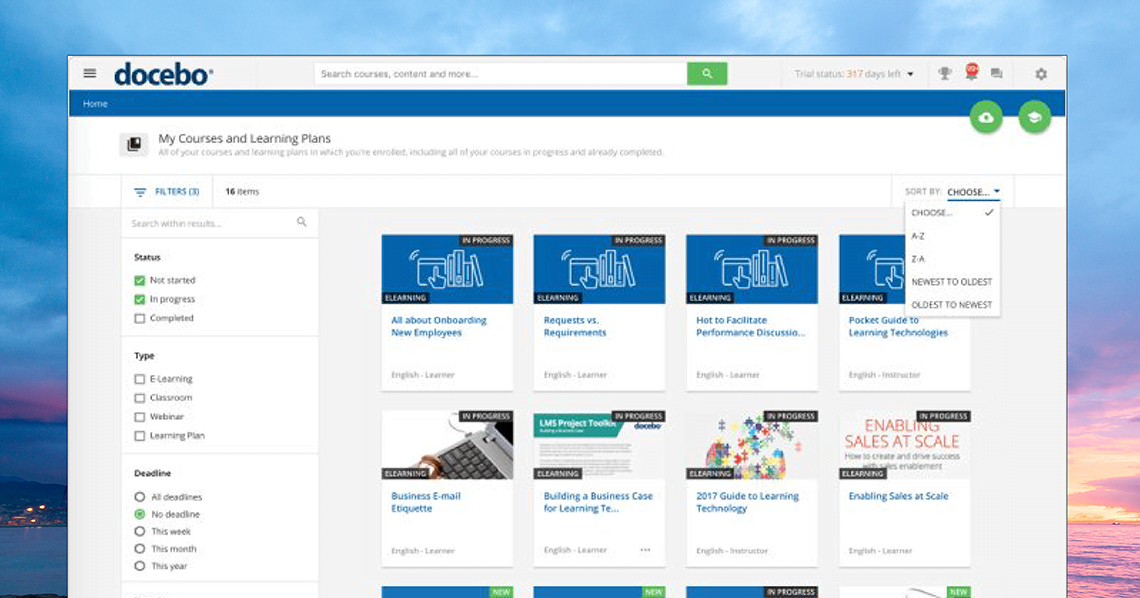 A powerful platform
Self-explanatory, intuitive and easy to use interfaces, high levels of automation and reporting data make this the ultimate learning management system.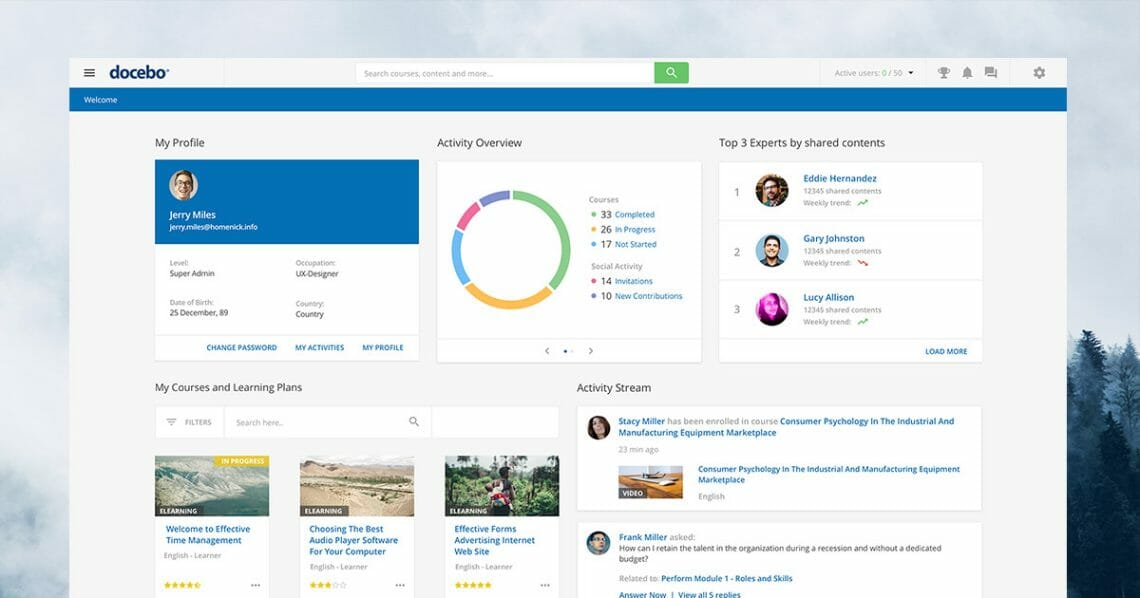 Customise to suit your organisation
Configure the system for both internal and external audiences. Control the look, feel and how the system behaves to suit you.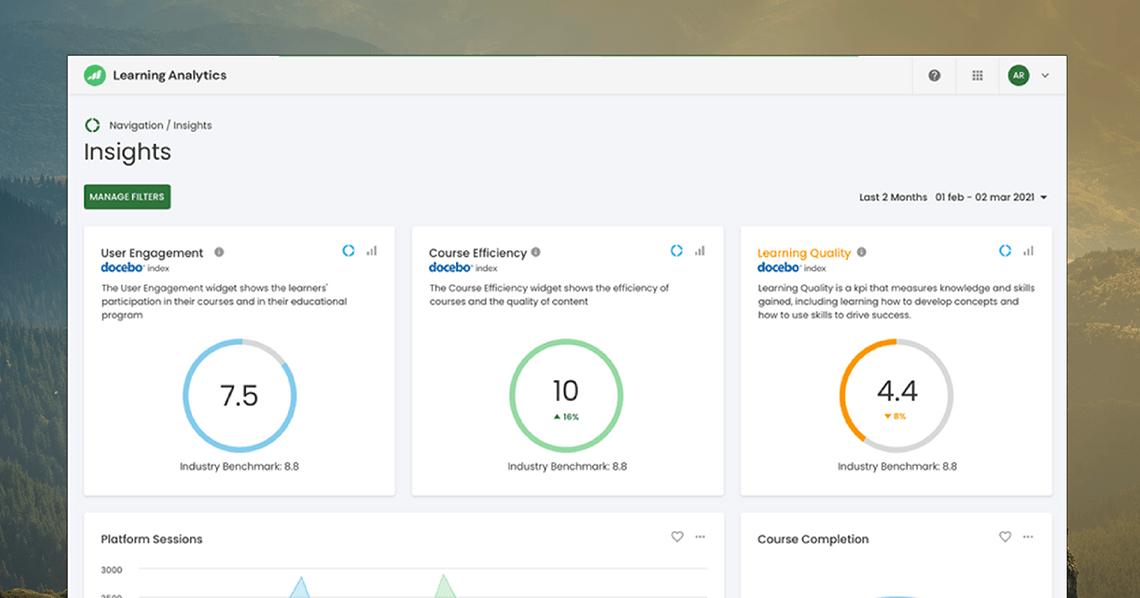 Measurement at all levels
Implement an evaluation and measurement process at all levels of the Kirkpatrick model and benchmark the results to industry standards.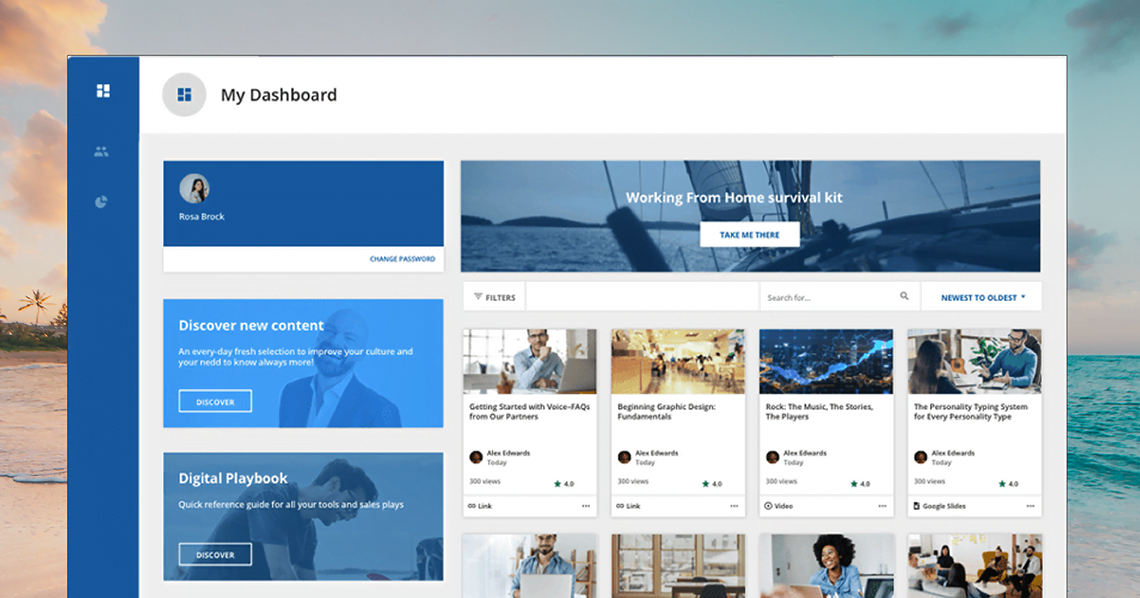 Flexible pricing model
Only pay for learners who are actively utilising the platform with active monthly user fees - a cost efficent external learning solution.
Docebo
See Docebo in action
A modern, cloud-based and integrated learning management system that can deliver on every element of your learning and development strategy.





"The support that I've received from Omniplex Learning has been brilliant. I could not have asked for more from a training partner. This gives me the confidence achieve my learning strategies."
James Petrie
L&D Manager, Sykes

DOCEBO
Unlock your learning culture today

Request a Live Demo
Align the training needs of your organisation to those of your learners with an L&D ecosystem. Request your live demo now.
Whatever your learning requirements, our complete learning solution has the right combination of products and services to improve performance for your people and organisation.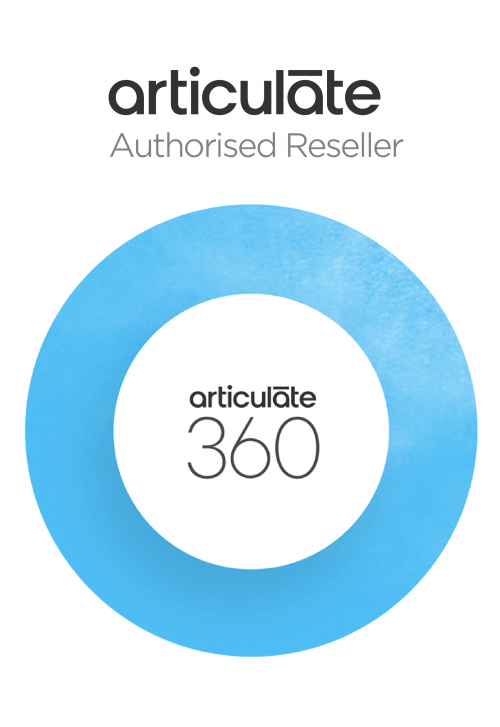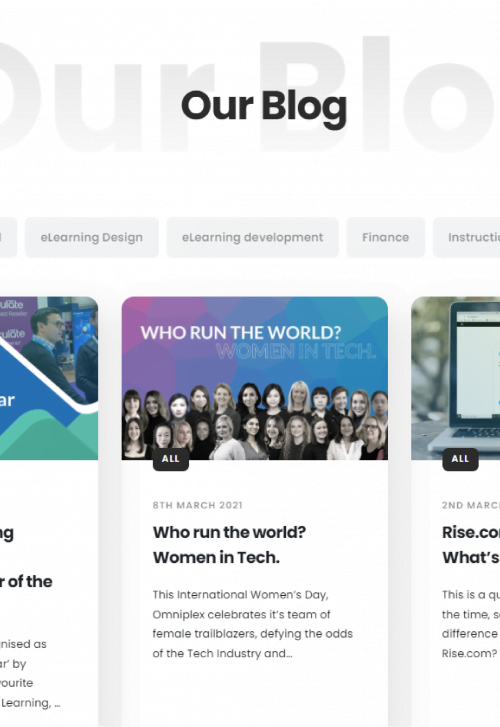 We use cookies
We use cookies to enhance your browsing experience on our website. By clicking "Accept All", you consent to our use of cookies. However, you may use the "manage cookies" button below to provide controlled consent. For more information you can read our cookie-policy