Array
(
    [0] => Array
        (
            [acf_fc_layout] => product_hero
            [image] => Array
                (
                    [ID] => 11531
                    [id] => 11531
                    [title] => Omniplex Guide screenshot
                    [filename] => OG-01.png
                    [filesize] => 46022
                    [url] => https://omniplexlearning.com/wp-content/uploads/2022/03/OG-01.png
                    [link] => https://omniplexlearning.com/product/omniplex-guide/og-01/
                    [alt] => An image of digital adoption solution, Omniplex Guide's, settings section
                    [author] => 3
                    [description] => An image of digital adoption solution, Omniplex Guide's, settings section
                    [caption] => 
                    [name] => og-01
                    [status] => inherit
                    [uploaded_to] => 11486
                    [date] => 2022-03-18 10:08:20
                    [modified] => 2022-05-12 12:42:02
                    [menu_order] => 0
                    [mime_type] => image/png
                    [type] => image
                    [subtype] => png
                    [icon] => https://omniplexlearning.com/wp-includes/images/media/default.png
                    [width] => 744
                    [height] => 569
                    [sizes] => Array
                        (
                            [thumbnail] => https://omniplexlearning.com/wp-content/uploads/2022/03/OG-01-150x150.png
                            [thumbnail-width] => 150
                            [thumbnail-height] => 150
                            [medium] => https://omniplexlearning.com/wp-content/uploads/2022/03/OG-01-300x229.png
                            [medium-width] => 300
                            [medium-height] => 229
                            [medium_large] => https://omniplexlearning.com/wp-content/uploads/2022/03/OG-01.png
                            [medium_large-width] => 640
                            [medium_large-height] => 489
                            [large] => https://omniplexlearning.com/wp-content/uploads/2022/03/OG-01.png
                            [large-width] => 640
                            [large-height] => 489
                            [1536x1536] => https://omniplexlearning.com/wp-content/uploads/2022/03/OG-01.png
                            [1536x1536-width] => 744
                            [1536x1536-height] => 569
                            [2048x2048] => https://omniplexlearning.com/wp-content/uploads/2022/03/OG-01.png
                            [2048x2048-width] => 744
                            [2048x2048-height] => 569
                            [woocommerce_thumbnail] => https://omniplexlearning.com/wp-content/uploads/2022/03/OG-01-300x300.png
                            [woocommerce_thumbnail-width] => 300
                            [woocommerce_thumbnail-height] => 300
                            [woocommerce_single] => https://omniplexlearning.com/wp-content/uploads/2022/03/OG-01-600x459.png
                            [woocommerce_single-width] => 600
                            [woocommerce_single-height] => 459
                            [woocommerce_gallery_thumbnail] => https://omniplexlearning.com/wp-content/uploads/2022/03/OG-01-100x100.png
                            [woocommerce_gallery_thumbnail-width] => 100
                            [woocommerce_gallery_thumbnail-height] => 100
                            [shop_catalog] => https://omniplexlearning.com/wp-content/uploads/2022/03/OG-01-300x300.png
                            [shop_catalog-width] => 300
                            [shop_catalog-height] => 300
                            [shop_single] => https://omniplexlearning.com/wp-content/uploads/2022/03/OG-01-600x459.png
                            [shop_single-width] => 600
                            [shop_single-height] => 459
                            [shop_thumbnail] => https://omniplexlearning.com/wp-content/uploads/2022/03/OG-01-100x100.png
                            [shop_thumbnail-width] => 100
                            [shop_thumbnail-height] => 100
                        )

                )

            [ico] => https://omniplexlearning.com/wp-content/uploads/2022/03/OG.png
            [title] => Omniplex Guide
            [sub_title] => Your Digital Adoption Solution
            [info] => 

In today's workplace, software changes every day. Teams work remotely, and training new team members is more complex than ever. Yet business success is dependent on how well people can use the tools available to them – whether a CRM, LMS or other software.




Imagine if you could provide on-demand, interactive and in-situ guidance to every learner. A solution where the content is always up-to-date. Where a personalised curriculum is available whenever and wherever your teams need it. That's Omniplex Guide.



            [link_1] => Array
                (
                    [title] => Book a Demo
                    [url] => #scrolltobuyer
                    [target] => 
                )

            [link_2] => Array
                (
                    [title] => Find out more
                    [url] => #solutionsscroller
                    [target] => 
                )

            [slide] => 
            [slide_section_title] => 
            [slider] => 
            [flip_content] => 
            [element_type] => 
        )

    [1] => Array
        (
            [acf_fc_layout] => toggle
            [section_title] => Why Digital Adoption?
            [content] => 

Get the most out of your applications with a digital adoption solution that can help users learn to use unfamiliar software quickly.



            [image_or_video] => image
            [image] => Array
                (
                    [ID] => 11536
                    [id] => 11536
                    [title] => Omniplex Guide App Dashboard
                    [filename] => OG_AppDashboard-01.png
                    [filesize] => 246771
                    [url] => https://omniplexlearning.com/wp-content/uploads/2022/03/OG_AppDashboard-01.png
                    [link] => https://omniplexlearning.com/product/omniplex-guide/og_appdashboard-01/
                    [alt] => An image of Omniplex Guide app dashboards, digital adoption solution
                    [author] => 3
                    [description] => An image of Omniplex Guide app dashboards, digital adoption solution
                    [caption] => 
                    [name] => og_appdashboard-01
                    [status] => inherit
                    [uploaded_to] => 11486
                    [date] => 2022-03-18 10:44:21
                    [modified] => 2022-05-12 12:41:22
                    [menu_order] => 0
                    [mime_type] => image/png
                    [type] => image
                    [subtype] => png
                    [icon] => https://omniplexlearning.com/wp-includes/images/media/default.png
                    [width] => 744
                    [height] => 569
                    [sizes] => Array
                        (
                            [thumbnail] => https://omniplexlearning.com/wp-content/uploads/2022/03/OG_AppDashboard-01-150x150.png
                            [thumbnail-width] => 150
                            [thumbnail-height] => 150
                            [medium] => https://omniplexlearning.com/wp-content/uploads/2022/03/OG_AppDashboard-01-300x229.png
                            [medium-width] => 300
                            [medium-height] => 229
                            [medium_large] => https://omniplexlearning.com/wp-content/uploads/2022/03/OG_AppDashboard-01.png
                            [medium_large-width] => 640
                            [medium_large-height] => 489
                            [large] => https://omniplexlearning.com/wp-content/uploads/2022/03/OG_AppDashboard-01.png
                            [large-width] => 640
                            [large-height] => 489
                            [1536x1536] => https://omniplexlearning.com/wp-content/uploads/2022/03/OG_AppDashboard-01.png
                            [1536x1536-width] => 744
                            [1536x1536-height] => 569
                            [2048x2048] => https://omniplexlearning.com/wp-content/uploads/2022/03/OG_AppDashboard-01.png
                            [2048x2048-width] => 744
                            [2048x2048-height] => 569
                            [woocommerce_thumbnail] => https://omniplexlearning.com/wp-content/uploads/2022/03/OG_AppDashboard-01-300x300.png
                            [woocommerce_thumbnail-width] => 300
                            [woocommerce_thumbnail-height] => 300
                            [woocommerce_single] => https://omniplexlearning.com/wp-content/uploads/2022/03/OG_AppDashboard-01-600x459.png
                            [woocommerce_single-width] => 600
                            [woocommerce_single-height] => 459
                            [woocommerce_gallery_thumbnail] => https://omniplexlearning.com/wp-content/uploads/2022/03/OG_AppDashboard-01-100x100.png
                            [woocommerce_gallery_thumbnail-width] => 100
                            [woocommerce_gallery_thumbnail-height] => 100
                            [shop_catalog] => https://omniplexlearning.com/wp-content/uploads/2022/03/OG_AppDashboard-01-300x300.png
                            [shop_catalog-width] => 300
                            [shop_catalog-height] => 300
                            [shop_single] => https://omniplexlearning.com/wp-content/uploads/2022/03/OG_AppDashboard-01-600x459.png
                            [shop_single-width] => 600
                            [shop_single-height] => 459
                            [shop_thumbnail] => https://omniplexlearning.com/wp-content/uploads/2022/03/OG_AppDashboard-01-100x100.png
                            [shop_thumbnail-width] => 100
                            [shop_thumbnail-height] => 100
                        )

                )

            [video] => 
            [toggle] => Array
                (
                    [0] => Array
                        (
                            [image] => Array
                                (
                                    [ID] => 11536
                                    [id] => 11536
                                    [title] => Omniplex Guide App Dashboard
                                    [filename] => OG_AppDashboard-01.png
                                    [filesize] => 246771
                                    [url] => https://omniplexlearning.com/wp-content/uploads/2022/03/OG_AppDashboard-01.png
                                    [link] => https://omniplexlearning.com/product/omniplex-guide/og_appdashboard-01/
                                    [alt] => An image of Omniplex Guide app dashboards, digital adoption solution
                                    [author] => 3
                                    [description] => An image of Omniplex Guide app dashboards, digital adoption solution
                                    [caption] => 
                                    [name] => og_appdashboard-01
                                    [status] => inherit
                                    [uploaded_to] => 11486
                                    [date] => 2022-03-18 10:44:21
                                    [modified] => 2022-05-12 12:41:22
                                    [menu_order] => 0
                                    [mime_type] => image/png
                                    [type] => image
                                    [subtype] => png
                                    [icon] => https://omniplexlearning.com/wp-includes/images/media/default.png
                                    [width] => 744
                                    [height] => 569
                                    [sizes] => Array
                                        (
                                            [thumbnail] => https://omniplexlearning.com/wp-content/uploads/2022/03/OG_AppDashboard-01-150x150.png
                                            [thumbnail-width] => 150
                                            [thumbnail-height] => 150
                                            [medium] => https://omniplexlearning.com/wp-content/uploads/2022/03/OG_AppDashboard-01-300x229.png
                                            [medium-width] => 300
                                            [medium-height] => 229
                                            [medium_large] => https://omniplexlearning.com/wp-content/uploads/2022/03/OG_AppDashboard-01.png
                                            [medium_large-width] => 640
                                            [medium_large-height] => 489
                                            [large] => https://omniplexlearning.com/wp-content/uploads/2022/03/OG_AppDashboard-01.png
                                            [large-width] => 640
                                            [large-height] => 489
                                            [1536x1536] => https://omniplexlearning.com/wp-content/uploads/2022/03/OG_AppDashboard-01.png
                                            [1536x1536-width] => 744
                                            [1536x1536-height] => 569
                                            [2048x2048] => https://omniplexlearning.com/wp-content/uploads/2022/03/OG_AppDashboard-01.png
                                            [2048x2048-width] => 744
                                            [2048x2048-height] => 569
                                            [woocommerce_thumbnail] => https://omniplexlearning.com/wp-content/uploads/2022/03/OG_AppDashboard-01-300x300.png
                                            [woocommerce_thumbnail-width] => 300
                                            [woocommerce_thumbnail-height] => 300
                                            [woocommerce_single] => https://omniplexlearning.com/wp-content/uploads/2022/03/OG_AppDashboard-01-600x459.png
                                            [woocommerce_single-width] => 600
                                            [woocommerce_single-height] => 459
                                            [woocommerce_gallery_thumbnail] => https://omniplexlearning.com/wp-content/uploads/2022/03/OG_AppDashboard-01-100x100.png
                                            [woocommerce_gallery_thumbnail-width] => 100
                                            [woocommerce_gallery_thumbnail-height] => 100
                                            [shop_catalog] => https://omniplexlearning.com/wp-content/uploads/2022/03/OG_AppDashboard-01-300x300.png
                                            [shop_catalog-width] => 300
                                            [shop_catalog-height] => 300
                                            [shop_single] => https://omniplexlearning.com/wp-content/uploads/2022/03/OG_AppDashboard-01-600x459.png
                                            [shop_single-width] => 600
                                            [shop_single-height] => 459
                                            [shop_thumbnail] => https://omniplexlearning.com/wp-content/uploads/2022/03/OG_AppDashboard-01-100x100.png
                                            [shop_thumbnail-width] => 100
                                            [shop_thumbnail-height] => 100
                                        )

                                )

                            [title] => Faster Training for New Joiners
                            [info] => 

Bring new members of your team

up to speed faster, by guiding them

around software at their own pace.



                        )

                    [1] => Array
                        (
                            [image] => Array
                                (
                                    [ID] => 11536
                                    [id] => 11536
                                    [title] => Omniplex Guide App Dashboard
                                    [filename] => OG_AppDashboard-01.png
                                    [filesize] => 246771
                                    [url] => https://omniplexlearning.com/wp-content/uploads/2022/03/OG_AppDashboard-01.png
                                    [link] => https://omniplexlearning.com/product/omniplex-guide/og_appdashboard-01/
                                    [alt] => An image of Omniplex Guide app dashboards, digital adoption solution
                                    [author] => 3
                                    [description] => An image of Omniplex Guide app dashboards, digital adoption solution
                                    [caption] => 
                                    [name] => og_appdashboard-01
                                    [status] => inherit
                                    [uploaded_to] => 11486
                                    [date] => 2022-03-18 10:44:21
                                    [modified] => 2022-05-12 12:41:22
                                    [menu_order] => 0
                                    [mime_type] => image/png
                                    [type] => image
                                    [subtype] => png
                                    [icon] => https://omniplexlearning.com/wp-includes/images/media/default.png
                                    [width] => 744
                                    [height] => 569
                                    [sizes] => Array
                                        (
                                            [thumbnail] => https://omniplexlearning.com/wp-content/uploads/2022/03/OG_AppDashboard-01-150x150.png
                                            [thumbnail-width] => 150
                                            [thumbnail-height] => 150
                                            [medium] => https://omniplexlearning.com/wp-content/uploads/2022/03/OG_AppDashboard-01-300x229.png
                                            [medium-width] => 300
                                            [medium-height] => 229
                                            [medium_large] => https://omniplexlearning.com/wp-content/uploads/2022/03/OG_AppDashboard-01.png
                                            [medium_large-width] => 640
                                            [medium_large-height] => 489
                                            [large] => https://omniplexlearning.com/wp-content/uploads/2022/03/OG_AppDashboard-01.png
                                            [large-width] => 640
                                            [large-height] => 489
                                            [1536x1536] => https://omniplexlearning.com/wp-content/uploads/2022/03/OG_AppDashboard-01.png
                                            [1536x1536-width] => 744
                                            [1536x1536-height] => 569
                                            [2048x2048] => https://omniplexlearning.com/wp-content/uploads/2022/03/OG_AppDashboard-01.png
                                            [2048x2048-width] => 744
                                            [2048x2048-height] => 569
                                            [woocommerce_thumbnail] => https://omniplexlearning.com/wp-content/uploads/2022/03/OG_AppDashboard-01-300x300.png
                                            [woocommerce_thumbnail-width] => 300
                                            [woocommerce_thumbnail-height] => 300
                                            [woocommerce_single] => https://omniplexlearning.com/wp-content/uploads/2022/03/OG_AppDashboard-01-600x459.png
                                            [woocommerce_single-width] => 600
                                            [woocommerce_single-height] => 459
                                            [woocommerce_gallery_thumbnail] => https://omniplexlearning.com/wp-content/uploads/2022/03/OG_AppDashboard-01-100x100.png
                                            [woocommerce_gallery_thumbnail-width] => 100
                                            [woocommerce_gallery_thumbnail-height] => 100
                                            [shop_catalog] => https://omniplexlearning.com/wp-content/uploads/2022/03/OG_AppDashboard-01-300x300.png
                                            [shop_catalog-width] => 300
                                            [shop_catalog-height] => 300
                                            [shop_single] => https://omniplexlearning.com/wp-content/uploads/2022/03/OG_AppDashboard-01-600x459.png
                                            [shop_single-width] => 600
                                            [shop_single-height] => 459
                                            [shop_thumbnail] => https://omniplexlearning.com/wp-content/uploads/2022/03/OG_AppDashboard-01-100x100.png
                                            [shop_thumbnail-width] => 100
                                            [shop_thumbnail-height] => 100
                                        )

                                )

                            [title] => Empower a Hybrid Workforce
                            [info] => 

Help your staff to feel empowered,

not frustrated by technology,

independently of their location.



                        )

                    [2] => Array
                        (
                            [image] => Array
                                (
                                    [ID] => 11536
                                    [id] => 11536
                                    [title] => Omniplex Guide App Dashboard
                                    [filename] => OG_AppDashboard-01.png
                                    [filesize] => 246771
                                    [url] => https://omniplexlearning.com/wp-content/uploads/2022/03/OG_AppDashboard-01.png
                                    [link] => https://omniplexlearning.com/product/omniplex-guide/og_appdashboard-01/
                                    [alt] => An image of Omniplex Guide app dashboards, digital adoption solution
                                    [author] => 3
                                    [description] => An image of Omniplex Guide app dashboards, digital adoption solution
                                    [caption] => 
                                    [name] => og_appdashboard-01
                                    [status] => inherit
                                    [uploaded_to] => 11486
                                    [date] => 2022-03-18 10:44:21
                                    [modified] => 2022-05-12 12:41:22
                                    [menu_order] => 0
                                    [mime_type] => image/png
                                    [type] => image
                                    [subtype] => png
                                    [icon] => https://omniplexlearning.com/wp-includes/images/media/default.png
                                    [width] => 744
                                    [height] => 569
                                    [sizes] => Array
                                        (
                                            [thumbnail] => https://omniplexlearning.com/wp-content/uploads/2022/03/OG_AppDashboard-01-150x150.png
                                            [thumbnail-width] => 150
                                            [thumbnail-height] => 150
                                            [medium] => https://omniplexlearning.com/wp-content/uploads/2022/03/OG_AppDashboard-01-300x229.png
                                            [medium-width] => 300
                                            [medium-height] => 229
                                            [medium_large] => https://omniplexlearning.com/wp-content/uploads/2022/03/OG_AppDashboard-01.png
                                            [medium_large-width] => 640
                                            [medium_large-height] => 489
                                            [large] => https://omniplexlearning.com/wp-content/uploads/2022/03/OG_AppDashboard-01.png
                                            [large-width] => 640
                                            [large-height] => 489
                                            [1536x1536] => https://omniplexlearning.com/wp-content/uploads/2022/03/OG_AppDashboard-01.png
                                            [1536x1536-width] => 744
                                            [1536x1536-height] => 569
                                            [2048x2048] => https://omniplexlearning.com/wp-content/uploads/2022/03/OG_AppDashboard-01.png
                                            [2048x2048-width] => 744
                                            [2048x2048-height] => 569
                                            [woocommerce_thumbnail] => https://omniplexlearning.com/wp-content/uploads/2022/03/OG_AppDashboard-01-300x300.png
                                            [woocommerce_thumbnail-width] => 300
                                            [woocommerce_thumbnail-height] => 300
                                            [woocommerce_single] => https://omniplexlearning.com/wp-content/uploads/2022/03/OG_AppDashboard-01-600x459.png
                                            [woocommerce_single-width] => 600
                                            [woocommerce_single-height] => 459
                                            [woocommerce_gallery_thumbnail] => https://omniplexlearning.com/wp-content/uploads/2022/03/OG_AppDashboard-01-100x100.png
                                            [woocommerce_gallery_thumbnail-width] => 100
                                            [woocommerce_gallery_thumbnail-height] => 100
                                            [shop_catalog] => https://omniplexlearning.com/wp-content/uploads/2022/03/OG_AppDashboard-01-300x300.png
                                            [shop_catalog-width] => 300
                                            [shop_catalog-height] => 300
                                            [shop_single] => https://omniplexlearning.com/wp-content/uploads/2022/03/OG_AppDashboard-01-600x459.png
                                            [shop_single-width] => 600
                                            [shop_single-height] => 459
                                            [shop_thumbnail] => https://omniplexlearning.com/wp-content/uploads/2022/03/OG_AppDashboard-01-100x100.png
                                            [shop_thumbnail-width] => 100
                                            [shop_thumbnail-height] => 100
                                        )

                                )

                            [title] => Digital Transformation
                            [info] => 

Allow your team to become confident in working with the technology and keep up with the pace of change.



                        )

                    [3] => Array
                        (
                            [image] => Array
                                (
                                    [ID] => 11536
                                    [id] => 11536
                                    [title] => Omniplex Guide App Dashboard
                                    [filename] => OG_AppDashboard-01.png
                                    [filesize] => 246771
                                    [url] => https://omniplexlearning.com/wp-content/uploads/2022/03/OG_AppDashboard-01.png
                                    [link] => https://omniplexlearning.com/product/omniplex-guide/og_appdashboard-01/
                                    [alt] => An image of Omniplex Guide app dashboards, digital adoption solution
                                    [author] => 3
                                    [description] => An image of Omniplex Guide app dashboards, digital adoption solution
                                    [caption] => 
                                    [name] => og_appdashboard-01
                                    [status] => inherit
                                    [uploaded_to] => 11486
                                    [date] => 2022-03-18 10:44:21
                                    [modified] => 2022-05-12 12:41:22
                                    [menu_order] => 0
                                    [mime_type] => image/png
                                    [type] => image
                                    [subtype] => png
                                    [icon] => https://omniplexlearning.com/wp-includes/images/media/default.png
                                    [width] => 744
                                    [height] => 569
                                    [sizes] => Array
                                        (
                                            [thumbnail] => https://omniplexlearning.com/wp-content/uploads/2022/03/OG_AppDashboard-01-150x150.png
                                            [thumbnail-width] => 150
                                            [thumbnail-height] => 150
                                            [medium] => https://omniplexlearning.com/wp-content/uploads/2022/03/OG_AppDashboard-01-300x229.png
                                            [medium-width] => 300
                                            [medium-height] => 229
                                            [medium_large] => https://omniplexlearning.com/wp-content/uploads/2022/03/OG_AppDashboard-01.png
                                            [medium_large-width] => 640
                                            [medium_large-height] => 489
                                            [large] => https://omniplexlearning.com/wp-content/uploads/2022/03/OG_AppDashboard-01.png
                                            [large-width] => 640
                                            [large-height] => 489
                                            [1536x1536] => https://omniplexlearning.com/wp-content/uploads/2022/03/OG_AppDashboard-01.png
                                            [1536x1536-width] => 744
                                            [1536x1536-height] => 569
                                            [2048x2048] => https://omniplexlearning.com/wp-content/uploads/2022/03/OG_AppDashboard-01.png
                                            [2048x2048-width] => 744
                                            [2048x2048-height] => 569
                                            [woocommerce_thumbnail] => https://omniplexlearning.com/wp-content/uploads/2022/03/OG_AppDashboard-01-300x300.png
                                            [woocommerce_thumbnail-width] => 300
                                            [woocommerce_thumbnail-height] => 300
                                            [woocommerce_single] => https://omniplexlearning.com/wp-content/uploads/2022/03/OG_AppDashboard-01-600x459.png
                                            [woocommerce_single-width] => 600
                                            [woocommerce_single-height] => 459
                                            [woocommerce_gallery_thumbnail] => https://omniplexlearning.com/wp-content/uploads/2022/03/OG_AppDashboard-01-100x100.png
                                            [woocommerce_gallery_thumbnail-width] => 100
                                            [woocommerce_gallery_thumbnail-height] => 100
                                            [shop_catalog] => https://omniplexlearning.com/wp-content/uploads/2022/03/OG_AppDashboard-01-300x300.png
                                            [shop_catalog-width] => 300
                                            [shop_catalog-height] => 300
                                            [shop_single] => https://omniplexlearning.com/wp-content/uploads/2022/03/OG_AppDashboard-01-600x459.png
                                            [shop_single-width] => 600
                                            [shop_single-height] => 459
                                            [shop_thumbnail] => https://omniplexlearning.com/wp-content/uploads/2022/03/OG_AppDashboard-01-100x100.png
                                            [shop_thumbnail-width] => 100
                                            [shop_thumbnail-height] => 100
                                        )

                                )

                            [title] => Data Accuracy
                            [info] => 

Improve data quality by guiding teams through forms, ensuring everybody knows how to enter and maintain information in your software.



                        )

                )

            [element_type] => 
        )

    [2] => Array
        (
            [acf_fc_layout] => reviews
            [reviews] => Array
                (
                    [0] => Array
                        (
                            [image] => https://omniplexlearning.com/wp-content/uploads/2022/01/Group-3257-1-1.svg
                            [reviews] => Since launching our onboarding user flows our new user conversion rate is on the up, and continues to grow."
                            [from] => 
                            [post] => VP, Digital Assets
                        )

                )

        )

    [3] => Array
        (
            [acf_fc_layout] => text_and_ico_list
            [title] => Omniplex Guide Features
            [info] => Omniplex Guide has the ability to create interactive guides, add in-app hotspots and videos as well as a variety of learning analytics. Add these features to existing software to help users hit the ground running!
            [ico_list] => Array
                (
                    [0] => Array
                        (
                            [ico] => https://omniplexlearning.com/wp-content/uploads/2022/03/Check-Icon-e1647275694641.png
                            [title] => In-app hotspots
                            [info] => 
                        )

                    [1] => Array
                        (
                            [ico] => https://omniplexlearning.com/wp-content/uploads/2022/03/Check-Icon-e1647275694641.png
                            [title] => Screenshot export
                            [info] => 
                        )

                    [2] => Array
                        (
                            [ico] => https://omniplexlearning.com/wp-content/uploads/2022/03/Check-Icon-e1647275694641.png
                            [title] => Learner analytics
                            [info] => 
                        )

                    [3] => Array
                        (
                            [ico] => https://omniplexlearning.com/wp-content/uploads/2022/03/Check-Icon-e1647275694641.png
                            [title] => Browser extension
                            [info] => 
                        )

                    [4] => Array
                        (
                            [ico] => https://omniplexlearning.com/wp-content/uploads/2022/03/Check-Icon-e1647275694641.png
                            [title] => Launch via URL
                            [info] => 
                        )

                    [5] => Array
                        (
                            [ico] => https://omniplexlearning.com/wp-content/uploads/2022/03/Check-Icon-e1647275694641.png
                            [title] => Learner segmentation
                            [info] => 
                        )

                    [6] => Array
                        (
                            [ico] => https://omniplexlearning.com/wp-content/uploads/2022/03/Check-Icon-e1647275694641.png
                            [title] => Google integration
                            [info] => 
                        )

                    [7] => Array
                        (
                            [ico] => https://omniplexlearning.com/wp-content/uploads/2022/03/Check-Icon-e1647275694641.png
                            [title] => Weekly email reporting
                            [info] => 
                        )

                )

            [element_type] => h2
        )

    [4] => Array
        (
            [acf_fc_layout] => get_started
            [icon_image] => 
            [tag] => Omniplex Guide
            [title] => Talk to an expert
            [blocks] => 
            [info] => 

If you have any questions, please email sales@omniplexlearning.com



            [request_demo_form_switch] => 1
            [request_demo_form_title] => Book a Demo
            [request_demo_form_content] => Interested in providing guidance and technology to support your applications? Fill in the form below and we'll be in touch. 
            [request_demo_form_code] => [gravityform id="3" title=false description=false ajax=true]
            [free_trial] => 
            [free_trial_title] => 
            [free_trial_info] => 
            [free_trial_price] => 
            [free_trial_price_info] => 
            [free_trial_Link] => 
            [full_width_content] => 
            [full_width_content_ico] => 
            [full_width_content_image] => 
            [full_width_content_title] => 
            [full_width_content_text] => 
            [full_width_content_button_info] => 
            [full_width_content_link] => 
            [element_type] => 
        )

    [5] => Array
        (
            [acf_fc_layout] => explore_more_style2
            [title] => Explore more at Omniplex Learning
            [info] => Omniplex Guide makes the perfect always-on complement to other eLearning solutions offered as  part of the Omniplex Learning suite.
            [explore] => Array
                (
                    [0] => Array
                        (
                            [ico] => https://omniplexlearning.com/wp-content/uploads/2021/11/Group-3308.png
                            [title] => Articulate 360
                            [info] => Award-winning authoring apps, one simple subscription.
                            [image] => Array
                                (
                                    [ID] => 10878
                                    [id] => 10878
                                    [title] => Articulate 360 em-01
                                    [filename] => Articulate-360-em-01-e1643204813389.png
                                    [filesize] => 216686
                                    [url] => https://omniplexlearning.com/wp-content/uploads/2021/11/Articulate-360-em-01-e1643204813389.png
                                    [link] => https://omniplexlearning.com/product/articulate-storyline-3/articulate-360-em-01/
                                    [alt] => 
                                    [author] => 1
                                    [description] => 
                                    [caption] => 
                                    [name] => articulate-360-em-01
                                    [status] => inherit
                                    [uploaded_to] => 479
                                    [date] => 2022-01-26 13:46:37
                                    [modified] => 2022-01-26 13:46:37
                                    [menu_order] => 0
                                    [mime_type] => image/png
                                    [type] => image
                                    [subtype] => png
                                    [icon] => https://omniplexlearning.com/wp-includes/images/media/default.png
                                    [width] => 500
                                    [height] => 727
                                    [sizes] => Array
                                        (
                                            [thumbnail] => https://omniplexlearning.com/wp-content/uploads/2021/11/Articulate-360-em-01-150x150.png
                                            [thumbnail-width] => 150
                                            [thumbnail-height] => 150
                                            [medium] => https://omniplexlearning.com/wp-content/uploads/2021/11/Articulate-360-em-01-206x300.png
                                            [medium-width] => 206
                                            [medium-height] => 300
                                            [medium_large] => https://omniplexlearning.com/wp-content/uploads/2021/11/Articulate-360-em-01-768x1117.png
                                            [medium_large-width] => 640
                                            [medium_large-height] => 931
                                            [large] => https://omniplexlearning.com/wp-content/uploads/2021/11/Articulate-360-em-01-704x1024.png
                                            [large-width] => 640
                                            [large-height] => 931
                                            [1536x1536] => https://omniplexlearning.com/wp-content/uploads/2021/11/Articulate-360-em-01-1056x1536.png
                                            [1536x1536-width] => 1056
                                            [1536x1536-height] => 1536
                                            [2048x2048] => https://omniplexlearning.com/wp-content/uploads/2021/11/Articulate-360-em-01-1409x2048.png
                                            [2048x2048-width] => 1409
                                            [2048x2048-height] => 2048
                                            [woocommerce_thumbnail] => https://omniplexlearning.com/wp-content/uploads/2021/11/Articulate-360-em-01-300x300.png
                                            [woocommerce_thumbnail-width] => 300
                                            [woocommerce_thumbnail-height] => 300
                                            [woocommerce_single] => https://omniplexlearning.com/wp-content/uploads/2021/11/Articulate-360-em-01-600x872.png
                                            [woocommerce_single-width] => 600
                                            [woocommerce_single-height] => 872
                                            [woocommerce_gallery_thumbnail] => https://omniplexlearning.com/wp-content/uploads/2021/11/Articulate-360-em-01-100x100.png
                                            [woocommerce_gallery_thumbnail-width] => 100
                                            [woocommerce_gallery_thumbnail-height] => 100
                                            [shop_catalog] => https://omniplexlearning.com/wp-content/uploads/2021/11/Articulate-360-em-01-300x300.png
                                            [shop_catalog-width] => 300
                                            [shop_catalog-height] => 300
                                            [shop_single] => https://omniplexlearning.com/wp-content/uploads/2021/11/Articulate-360-em-01-600x872.png
                                            [shop_single-width] => 600
                                            [shop_single-height] => 872
                                            [shop_thumbnail] => https://omniplexlearning.com/wp-content/uploads/2021/11/Articulate-360-em-01-100x100.png
                                            [shop_thumbnail-width] => 100
                                            [shop_thumbnail-height] => 100
                                        )

                                )

                            [link] => /products/articulate-360/
                        )

                    [1] => Array
                        (
                            [ico] => https://omniplexlearning.com/wp-content/uploads/2021/12/Group-3261.svg
                            [title] => Docebo
                            [info] => Create interactive courses for any device, in minutes.
                            [image] => Array
                                (
                                    [ID] => 10866
                                    [id] => 10866
                                    [title] => Docebo-01
                                    [filename] => Docebo-01-e1643203315472.png
                                    [filesize] => 313081
                                    [url] => https://omniplexlearning.com/wp-content/uploads/2021/12/Docebo-01-e1643203315472.png
                                    [link] => https://omniplexlearning.com/product/articulate-360/docebo-01/
                                    [alt] => Docebo promotional image.
                                    [author] => 1
                                    [description] => 
                                    [caption] => 
                                    [name] => docebo-01
                                    [status] => inherit
                                    [uploaded_to] => 682
                                    [date] => 2022-01-26 13:15:07
                                    [modified] => 2022-03-02 16:17:18
                                    [menu_order] => 0
                                    [mime_type] => image/png
                                    [type] => image
                                    [subtype] => png
                                    [icon] => https://omniplexlearning.com/wp-includes/images/media/default.png
                                    [width] => 500
                                    [height] => 727
                                    [sizes] => Array
                                        (
                                            [thumbnail] => https://omniplexlearning.com/wp-content/uploads/2021/12/Docebo-01-150x150.png
                                            [thumbnail-width] => 150
                                            [thumbnail-height] => 150
                                            [medium] => https://omniplexlearning.com/wp-content/uploads/2021/12/Docebo-01-206x300.png
                                            [medium-width] => 206
                                            [medium-height] => 300
                                            [medium_large] => https://omniplexlearning.com/wp-content/uploads/2021/12/Docebo-01-768x1117.png
                                            [medium_large-width] => 640
                                            [medium_large-height] => 931
                                            [large] => https://omniplexlearning.com/wp-content/uploads/2021/12/Docebo-01-704x1024.png
                                            [large-width] => 640
                                            [large-height] => 931
                                            [1536x1536] => https://omniplexlearning.com/wp-content/uploads/2021/12/Docebo-01-1056x1536.png
                                            [1536x1536-width] => 1056
                                            [1536x1536-height] => 1536
                                            [2048x2048] => https://omniplexlearning.com/wp-content/uploads/2021/12/Docebo-01-1408x2048.png
                                            [2048x2048-width] => 1408
                                            [2048x2048-height] => 2048
                                            [woocommerce_thumbnail] => https://omniplexlearning.com/wp-content/uploads/2021/12/Docebo-01-300x300.png
                                            [woocommerce_thumbnail-width] => 300
                                            [woocommerce_thumbnail-height] => 300
                                            [woocommerce_single] => https://omniplexlearning.com/wp-content/uploads/2021/12/Docebo-01-600x873.png
                                            [woocommerce_single-width] => 600
                                            [woocommerce_single-height] => 873
                                            [woocommerce_gallery_thumbnail] => https://omniplexlearning.com/wp-content/uploads/2021/12/Docebo-01-100x100.png
                                            [woocommerce_gallery_thumbnail-width] => 100
                                            [woocommerce_gallery_thumbnail-height] => 100
                                            [shop_catalog] => https://omniplexlearning.com/wp-content/uploads/2021/12/Docebo-01-300x300.png
                                            [shop_catalog-width] => 300
                                            [shop_catalog-height] => 300
                                            [shop_single] => https://omniplexlearning.com/wp-content/uploads/2021/12/Docebo-01-600x873.png
                                            [shop_single-width] => 600
                                            [shop_single-height] => 873
                                            [shop_thumbnail] => https://omniplexlearning.com/wp-content/uploads/2021/12/Docebo-01-100x100.png
                                            [shop_thumbnail-width] => 100
                                            [shop_thumbnail-height] => 100
                                        )

                                )

                            [link] => /products/docebo/
                        )

                    [2] => Array
                        (
                            [ico] => https://omniplexlearning.com/wp-content/uploads/2021/11/Group-3262-1.svg
                            [title] => Design & Content
                            [info] => Transform any learning experience with well-designed learning.
                            [image] => Array
                                (
                                    [ID] => 10874
                                    [id] => 10874
                                    [title] => Design and content-01
                                    [filename] => Design-and-content-01-e1643203593282.png
                                    [filesize] => 271125
                                    [url] => https://omniplexlearning.com/wp-content/uploads/2021/12/Design-and-content-01-e1643203593282.png
                                    [link] => https://omniplexlearning.com/product/articulate-360/design-and-content-01/
                                    [alt] => An image of a piece of content.
                                    [author] => 1
                                    [description] => 
                                    [caption] => 
                                    [name] => design-and-content-01
                                    [status] => inherit
                                    [uploaded_to] => 682
                                    [date] => 2022-01-26 13:26:15
                                    [modified] => 2022-03-02 16:17:34
                                    [menu_order] => 0
                                    [mime_type] => image/png
                                    [type] => image
                                    [subtype] => png
                                    [icon] => https://omniplexlearning.com/wp-includes/images/media/default.png
                                    [width] => 500
                                    [height] => 727
                                    [sizes] => Array
                                        (
                                            [thumbnail] => https://omniplexlearning.com/wp-content/uploads/2021/12/Design-and-content-01-150x150.png
                                            [thumbnail-width] => 150
                                            [thumbnail-height] => 150
                                            [medium] => https://omniplexlearning.com/wp-content/uploads/2021/12/Design-and-content-01-206x300.png
                                            [medium-width] => 206
                                            [medium-height] => 300
                                            [medium_large] => https://omniplexlearning.com/wp-content/uploads/2021/12/Design-and-content-01-768x1117.png
                                            [medium_large-width] => 640
                                            [medium_large-height] => 931
                                            [large] => https://omniplexlearning.com/wp-content/uploads/2021/12/Design-and-content-01-704x1024.png
                                            [large-width] => 640
                                            [large-height] => 931
                                            [1536x1536] => https://omniplexlearning.com/wp-content/uploads/2021/12/Design-and-content-01-1056x1536.png
                                            [1536x1536-width] => 1056
                                            [1536x1536-height] => 1536
                                            [2048x2048] => https://omniplexlearning.com/wp-content/uploads/2021/12/Design-and-content-01-1409x2048.png
                                            [2048x2048-width] => 1409
                                            [2048x2048-height] => 2048
                                            [woocommerce_thumbnail] => https://omniplexlearning.com/wp-content/uploads/2021/12/Design-and-content-01-300x300.png
                                            [woocommerce_thumbnail-width] => 300
                                            [woocommerce_thumbnail-height] => 300
                                            [woocommerce_single] => https://omniplexlearning.com/wp-content/uploads/2021/12/Design-and-content-01-600x872.png
                                            [woocommerce_single-width] => 600
                                            [woocommerce_single-height] => 872
                                            [woocommerce_gallery_thumbnail] => https://omniplexlearning.com/wp-content/uploads/2021/12/Design-and-content-01-100x100.png
                                            [woocommerce_gallery_thumbnail-width] => 100
                                            [woocommerce_gallery_thumbnail-height] => 100
                                            [shop_catalog] => https://omniplexlearning.com/wp-content/uploads/2021/12/Design-and-content-01-300x300.png
                                            [shop_catalog-width] => 300
                                            [shop_catalog-height] => 300
                                            [shop_single] => https://omniplexlearning.com/wp-content/uploads/2021/12/Design-and-content-01-600x872.png
                                            [shop_single-width] => 600
                                            [shop_single-height] => 872
                                            [shop_thumbnail] => https://omniplexlearning.com/wp-content/uploads/2021/12/Design-and-content-01-100x100.png
                                            [shop_thumbnail-width] => 100
                                            [shop_thumbnail-height] => 100
                                        )

                                )

                            [link] => /services/digital-learning-creation/
                        )

                )

            [element_type] => h2
        )

)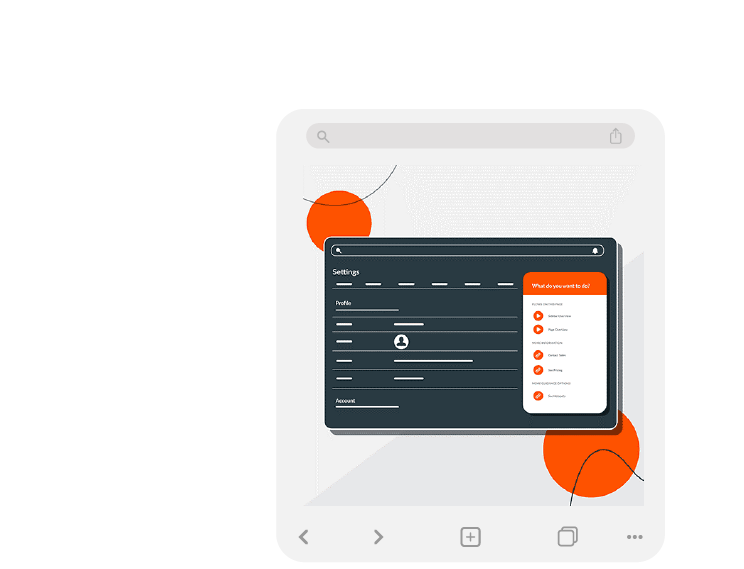 Omniplex Guide
Your Digital Adoption Solution
In today's workplace, software changes every day. Teams work remotely, and training new team members is more complex than ever. Yet business success is dependent on how well people can use the tools available to them – whether a CRM, LMS or other software.
Imagine if you could provide on-demand, interactive and in-situ guidance to every learner. A solution where the content is always up-to-date. Where a personalised curriculum is available whenever and wherever your teams need it. That's Omniplex Guide.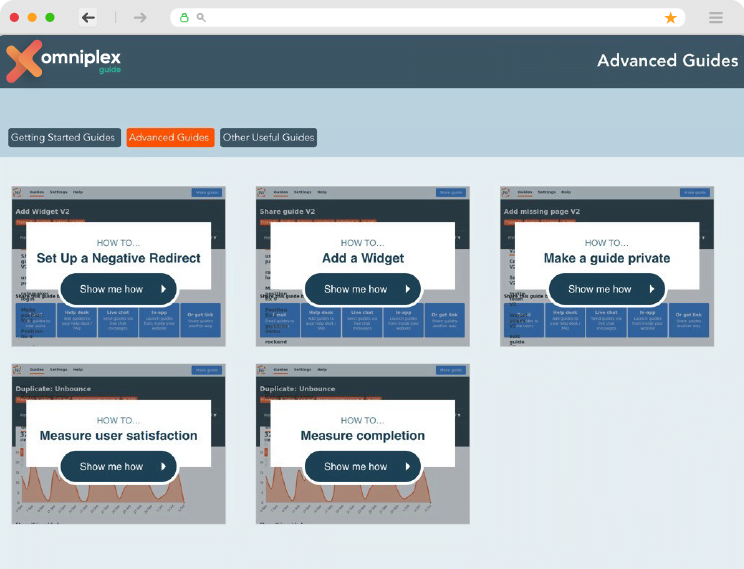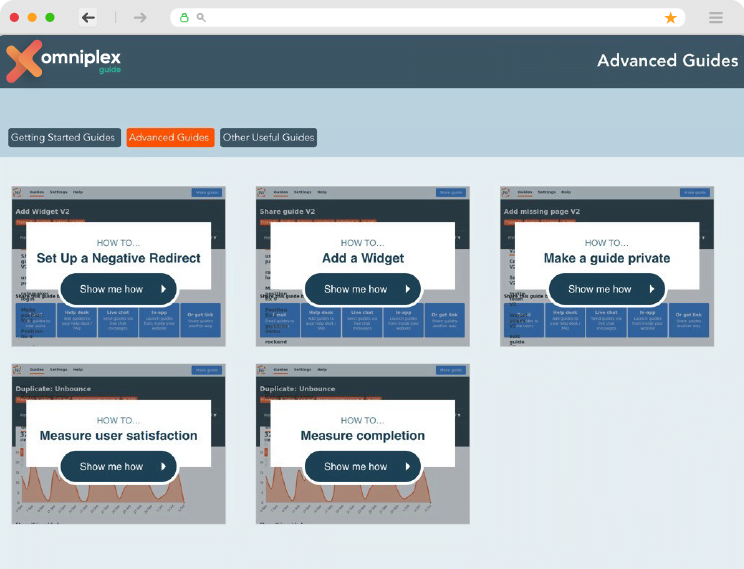 Faster Training for New Joiners
Bring new members of your team
up to speed faster, by guiding them
around software at their own pace.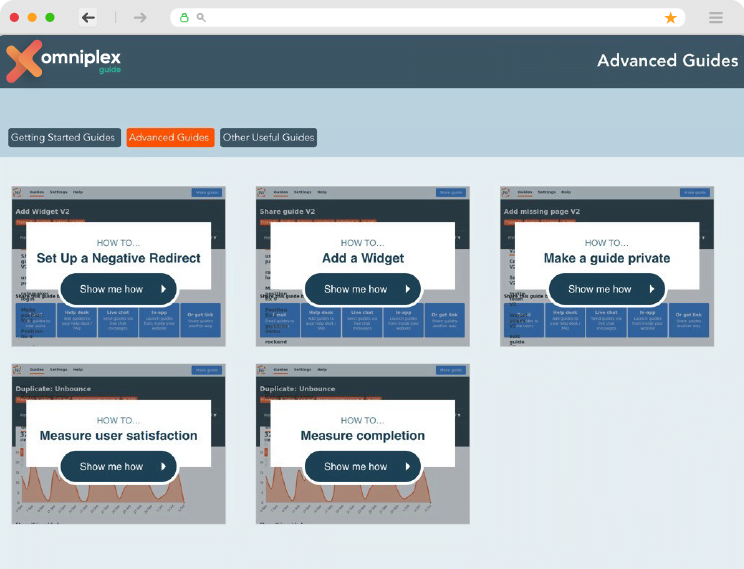 Empower a Hybrid Workforce
Help your staff to feel empowered,
not frustrated by technology,
independently of their location.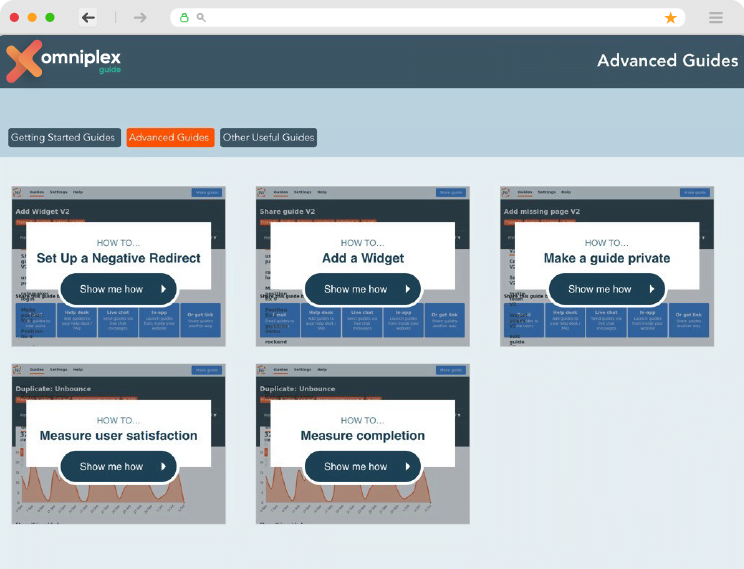 Digital Transformation
Allow your team to become confident in working with the technology and keep up with the pace of change.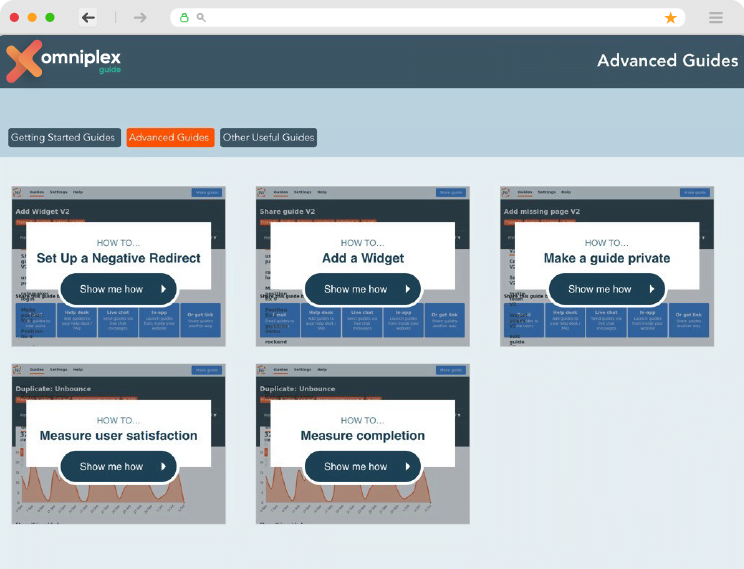 Data Accuracy
Improve data quality by guiding teams through forms, ensuring everybody knows how to enter and maintain information in your software.


Since launching our onboarding user flows our new user conversion rate is on the up, and continues to grow."
VP, Digital Assets
Omniplex Guide Features
Omniplex Guide has the ability to create interactive guides, add in-app hotspots and videos as well as a variety of learning analytics. Add these features to existing software to help users hit the ground running!








Omniplex Guide
Talk to an expert
Book a Demo
Interested in providing guidance and technology to support your applications? Fill in the form below and we'll be in touch.
Omniplex Guide makes the perfect always-on complement to other eLearning solutions offered as part of the Omniplex Learning suite.