Omniplex Learning has been named as a Core Challenger on the 2022 Fosway 9-Grid™ for Digital Learning.
It is the first time that Omniplex Learning has featured on the grid, which highlights the leading digital learning providers in the European market.
Matthew Lloyd, CEO at Omniplex Learning, said: "We're really excited to feature on the 2022 Fosway 9-Grid™ for the first time. Achieving Core Challenger status in digital learning highlights Omniplex Learning's commitment to innovation and removing complexity for our customers when it comes to learning and development solutions."
Updated annually, the Fosway 9-Grid™ uses a five-dimensional model to place organisations in one of nine zones, based on the performance, potential, market presence, total cost of ownership and future trajectories of that organisation.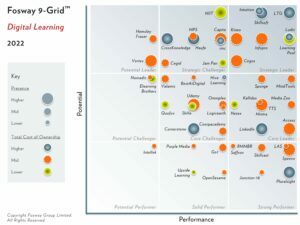 With over 30 years' experience, Omniplex Learning cater for small to big customers, with a track record of delivering multi- faceted solutions to industry-leading organisations such as Zoopla and Probrand.
Renée Fredlund, Head of Product at Omniplex Learning, said "We want to take away the pain created by having multiple platforms, tools and resources required to fulfil customer learning requirements. We are here as the one stop shop to make learning and development easy, ensuring all platforms and tools work seamlessly together and to support our customers in the execution of their learning strategy. It's fantastic that we've been recognised by Fosway as a Core Challenger in the digital learning space."
Omniplex Learning provides its customers with a full range of eLearning solutions, including in-house training, bespoke eLearning design and market-leading products such as Articulate, Docebo and Vyond, as well as the recently launched digital adoption solution, Omniplex Guide.
It is this range of digital services which has earned Omniplex Learning's place on the 2022 Fosway 9-Grid ™.
"Omniplex Learning is building real momentum with increased funding and is a good addition to the 9-Grid™ for Digital Learning as a Core Challenger" said David Wilson, CEO, Fosway Group. "With their acquisition of digital adoption specialist Nickelled, they have also expanded their portfolio of solutions, platform partnerships, and learning design capabilities."
A Core Challenger on the Fosway 9-Grid™ is recognised as having a strong core suite of solutions, a good track record of customer advocacy and an ability to perform well in enterprise organisations.
Explore more at Omniplex Learning
Omniplex Learning to launch new digital adoption solution