Vyond is, without doubt, one of the best eLearning video tools available. It's easy to use, packed with personality and great features and makes it simple to capture the attention of your learners.
In this tutorial, we're going to look at why you should consider Vyond and the basics you need to hit the ground running.
And don't forget, you can fast-track your learning of Vyond, by booking training with our team of experts.
What is Vyond?
Launched in 2007, Vyond is a video creation platform. It's specifically designed to make it easy to create learning, marketing and HR video content. It has thousands of unique assets, characters, animations and templates, making it a popular choice for eLearning professionals who want to get extra engagement from their courses.
Vyond is cloud-based, which means it runs within your browser. You sign up through a subscription system, where you can pay monthly, or annually for access to the tool.
Remember, if you like what you see, you can try Vyond for free with a trial, or book a demo with our team, here.
How does Vyond work?
Within Vyond, you'll find Vyond Studio, where you'll be making and editing your videos. This works similar to most other video tools. You have video and audio timelines, video previews and thousands of different ways to customise and build your video.
Vyond includes a wide range of characters, props and themes for almost any scenario. You can then create and animate your scenes to build your video.
There are three different subscriptions available within Vyond, which gives you access to different features. You can find out more about those, Vyond Premium, Vyond Professional and Vyond Enterprise, here.
How to make a video in Vyond
Now for the fun part… how to actually start making videos in Vyond. One of the reasons Vyond is so loved is because of its simple interface and a vast amount of customisation options.
Once you've planned and storyboarded your video, you're presented with a wide array of templates and assets at your disposal. You can, of course, build a video from scratch, but we recommend that beginners start out by using a template.
The Vyond template library contains video scenarios in all different shapes and sizes, with everything from seasonal themes like Valentine's Day and Halloween, to workplace benefits and web accessibility.
Pick a template to work from and then you can start to customise.
Build the video timeline by creating different scenes, and then filling it with the characters, props and scenery that fits your video. Don't forget that you can also upload your own image and video assets, allowing for mixing and matching with Vyond's pre-made content.
You can also edit the audio timeline. Again, you can add your own content, like music or voiceovers, as well as a wide range of stock music and sound effects that are already within the tool.
You also have full control over the colours, copy and transitions between scenes. Use the preview button in the top right-hand corner to review your video as you go.
Our favourite Vyond features
There are so many great features within Vyond that it's tricky to choose a favourite. Here's some of ours, but you can also find a wide range of tips and tricks on Vyond's website.
Vyond Characters
Characters are perhaps the most loved feature of Vyond. You have countless character and customisation options available, which really helps to take the storytelling of your videos to the next level.
What better way to keep your learners invested than with characters they can relate to and experience the learning with. You have control over their expressions, actions and emotions, giving your learning a truly unique pop of personality.
Character Animations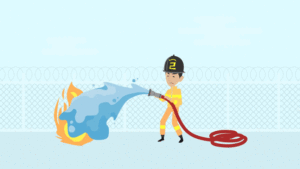 What really makes Vyond stand out is what you can do with the characters you create. Not only can you use multiple characters with a scene, but you can use them to bring your video to life.
Is the video set in an office? Have one of your characters typing on a computer. Is the scene an athletics track? Have the characters running. Is a character happy or upset? Set their emotions to match the message you want to get across.
With so many options and combinations, you'll be hard-pressed to find a character or animation that Vyond isn't suitable for.
Vyond Animations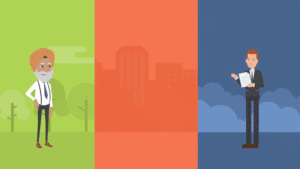 Within Vyond, there are three distinct animation styles. The original, a vibrant style that's workplace friendly. Whiteboard, is a hand-drawn style that stands out. And contemporary, the newest option.
You can mix and match these styles within your videos, which can help to make certain characters or props stand out. For example, using a whiteboard backdrop and a contemporary character can help the learner zero in on what's important.
Storytelling
Vyond is all about creating great stories and immersing your learners in your videos. Alongside the movements and animations, you can use, Vyond also allows for dialogue and lip-syncing, giving you even more ways to bring your characters to life.
Vyond templates
As we mentioned earlier, Vyond offers a wide range of templates to help you get started. This can save you time, compared to starting from scratch and can help you get to grips with the features and interactions that are at your disposal.
Branching Scenarios
The character variations within Vyond lend themselves wonderfully to branching scenarios. You can edit the emotions that a character shows to highlight the outcome of your branching scenarios, especially if you are using Vyond in conjunction with your authoring tools.
Version History
As a cloud-based platform, all of your previous versions are backed up. This means you can always go back if you make a wrong turn, or just want to use a previous version of your file.
Vyond Integration
You might be wondering if Vyond works with other eLearning tools… and the answer is yes, it does.
Vyond is compatible with authoring tools, like Articulate 360, allowing you to take your Storyline courses to the next level.
You can also download and host Vyond video tools within a learning management system, like Docebo.
These are just the tip of the iceberg when it comes to great Vyond features and we'll be featuring more of them on this blog in the coming months.
Why choose Vyond?
Everything is better with video, especially eLearning. But video can often be time-consuming and costly to create.
However, Vyond makes creating eLearning videos as simple as possible. From the user interface to the countless customisation options, even a video editing beginner can jump right in and create unique, engaging content.
And with theme and character customisation, you can truly put your own and your organisation's style into your videos. The end result is video content that your learners will enjoy and you will love creating.
Vyond video examples
Want to see an example of a Vyond video in action? Check out the Vyond library to see dozens of great examples.
Vyond training
If you want to learn Vyond quickly, why not train with the experts at Omniplex Learning. Our training gives your team the skills they need to create great videos in Vyond and hit the ground running with the tool.
Find out more about Vyond Training
How to subscribe to Vyond
You can subscribe to Vyond with Omniplex Learning. Not only are there a range of subscription options to suit your needs, but our expert team can also guide you in the set up and execution of your Vyond subscription.
Book a Vyond demo and find out more here.
Discover more at Omniplex Learning
eLearning content: Off the shelf or do it yourself?