As an award-winning and market-leading authoring tool, Articulate is frequently updating its suite of learning products.
Whether it's Rise 360 course creation, Storyline 360 or the vast Articulate Content Library, there are always new features and updates on the horizon. Below we've listed the latest feature releases and updates for Articulate 360.
Want to find out more about Articulate, or see it in action? Book an Articulate 360 demo with one of our experts.
July 2022 – Rise 360 Themes
The themes release for Rise 360 unleashes a whole world of options when it comes to customising your content. Themes give you the creative freedom to ensure your courses have that all-important pop of personality.
Take control of your headings, fonts, buttons, colours and navigation elements, by choosing the sizes and colours that suit your course or brand.
The themes themselves have been designed by award-winning learning designers. Alongside the original clean-looking Rise theme, you can now select Horizon, which offers elegant and sophisticated styling, and Apex, featuring a bold and contemporary look and feel.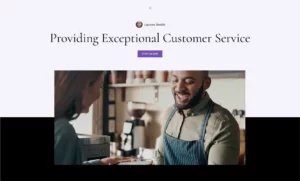 With this update, you can make sure that all of your Rise courses stand out from the crowd.
February 2022 – Rise 360 Real Content Templates
The Rise 360 Real Content Templates update aims to take away some of the time-consuming elements of course creation. It gives you access to thousands of customisable content templates, all focused on topics that are relevant to business across the world.
Whether it is health and wellbeing, compliance training or diversity and inclusion, to name a few, there's likely to be a template you can use. This means less creating courses from scratch and more hitting the ground running.
That's not all, this update includes even more content you can use.
Firstly, pre-built lessons. These on-demand videos and training courses cover topics of interest to every employee, which can then be easily customised and uploaded to your learning management system.
Secondly, the Next Big Ideas Club templates. These ready-to-use courses have been created in conjunction with a range of best selling authors, including Malcolm Gladwell, Susan Cain and Daniel Pink. These templates can be used in your LMS, providing a selection of ready-made content for you to use.
September 2021 – Added Interactivity and Customisation
This release includes a wide range of interactive and customisation features across several elements of Articulate 360.
360° images – Immerse your learners with the brand new 360° image feature. This feature gives your learners an environment to scroll and explore through, and lets you add hotspots to the image for added interaction.
Cover image – Set the scene for your course by adding a relevant cover image to welcome in your learners.
Caption sizes – Make your captions for readable for everyone with customisable caption sizes.
Two colour focus – Ensure that your course colours meet accessibility guidelines with the two colour focus feature.
Modern player – The modern player has been updated and now meets the web accessibility guidelines.
Modern player customisation – Give your modern player a makeover by adding a splash of colour.
Default slide size – Speed up course creation by setting a default size for all of your slides.
Rise 360 – This update improves image alignment and adds the randomised quizzes feature.
Review 360 – Easier management of your course, video and content versions.
Content Library 360 – Introduction of diverse characters which can be used in your courses.
Articulate 360 Accessibility
Articulate is continually striving to make its courses and features more accessible to learners, with regular updates and amendments to support web accessibility guidelines. You can read more about accessibility and Articulate here.
You can learn how to create accessible learning using Articulate by training with the experts at Omniplex Learning.
Articulate Full Version History
Visit the Articulate website to see a full breakdown of new features, enhancements, and fixes to the Articulate software.
Articulate 360 Development Roadmap
The team at Articulate are always looking for ways to improve the various elements of the Articulate 360 suite.
View the upcoming development plans and their status by visiting the Articulate Roadmap.
More from Omniplex Learning
Vyond Tutorial – Our Beginners Guide